On September 5, 2019, the day most saitom fans have been anticipating—saitom art exhibition is now open! I'm a fan of him as well and have been looking forward as hell since the announcement last month. On top of that, Toranoana will sell a wide variety of merchandise exclusively for the event. Before I could see anything, I'm pretty sure it is worth visiting!
So I'd been there for the first two days and guess what's in store for me.
Click here to see the illustrations first.
Entrance
There it is, Toranoana-C! At the entrance of the building, there was a notice of saitom art exhibition. I got hyped up! I was just like, "What is it like?" " How many people will come?"
It starts at noon, but…?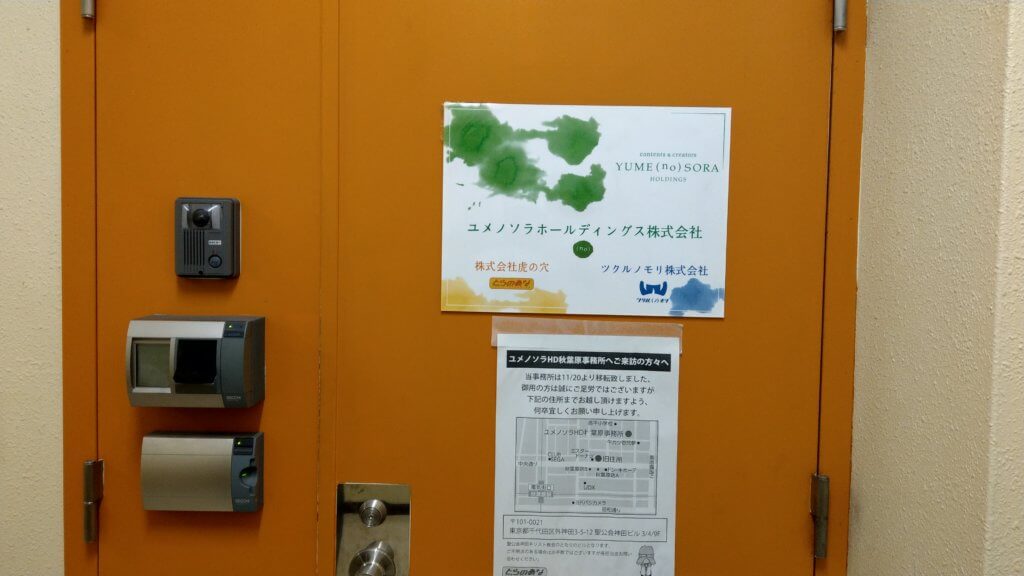 I was waiting on the 4th floor until it's open. As I arrived there, what came into sight was dimly lit stairs and unsophisticated door, where the exhibition would take place. It was a bit past 11 and right after the 3rd floor's Toranoana began.
And then I looked around. No one was to be seen, or nothing to be heard. I felt ill at ease, the ambiance hanging heavy on me.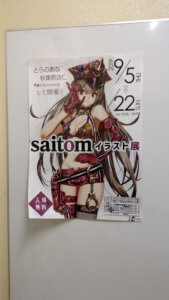 "I'm not sure this is the right place."
"Am I supposed to open it by any chance?"
Under the pressure of anxiety, I fled to the 3rd floor, pacing up and down as it's going to overwhelm me.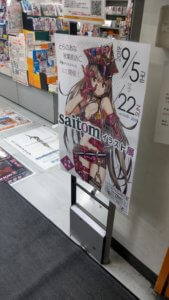 The 3rd floor has the poster, too.
It's not long before its opening…?
After coming and going to the 4th floor a few times, I proceeded there at 11:55 again. No one was there yet. Since saitom is a high-profile artist and the venue is in Tokyo, I was afraid it would be difficult to enjoy his artworks among a bunch of fans gathering from here and there.
Contrary to my expectation, I did not find anyone waiting in front of the door.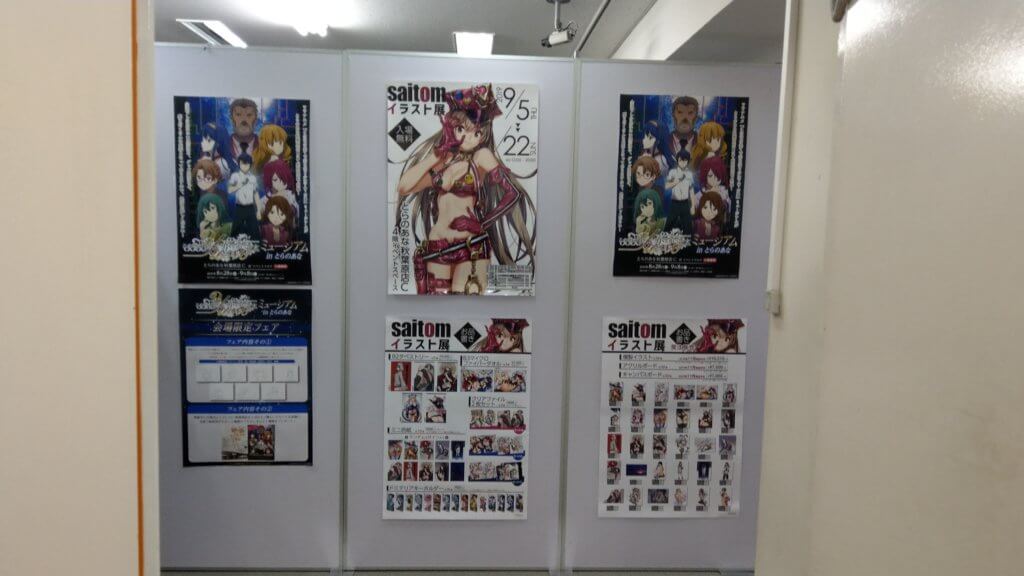 "We've kept you waiting for so long, but it opens now!"
At the end of the day, I was the first to go into the "sanctuary." Of course, I was happy and proud to be the leader but at the same time had a mixture of feelings. An eight-month fan came sooner than anyone else. Where did earnest old fans go?
---
So I snapped out of it to enter the room. Music was playing, and the atmosphere was tranquil. Air conditioner maintained a pleasant temperature.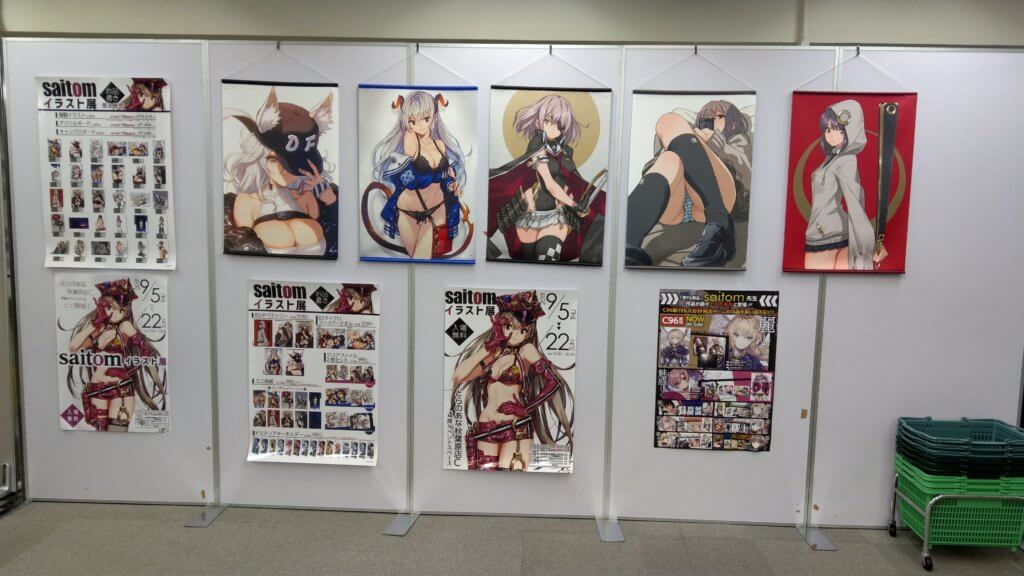 This picture is showing the samples of the tapestries listed on the menu.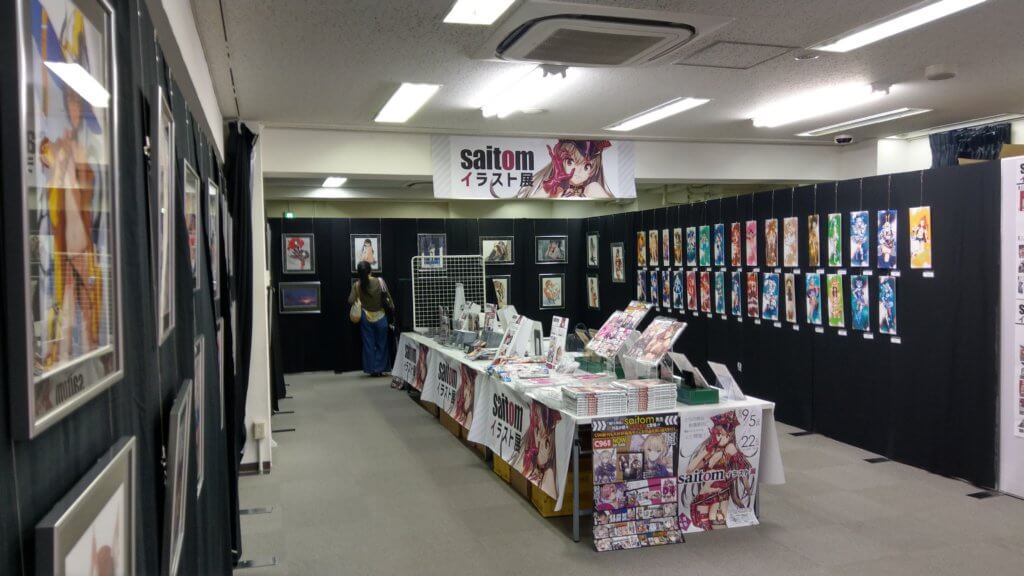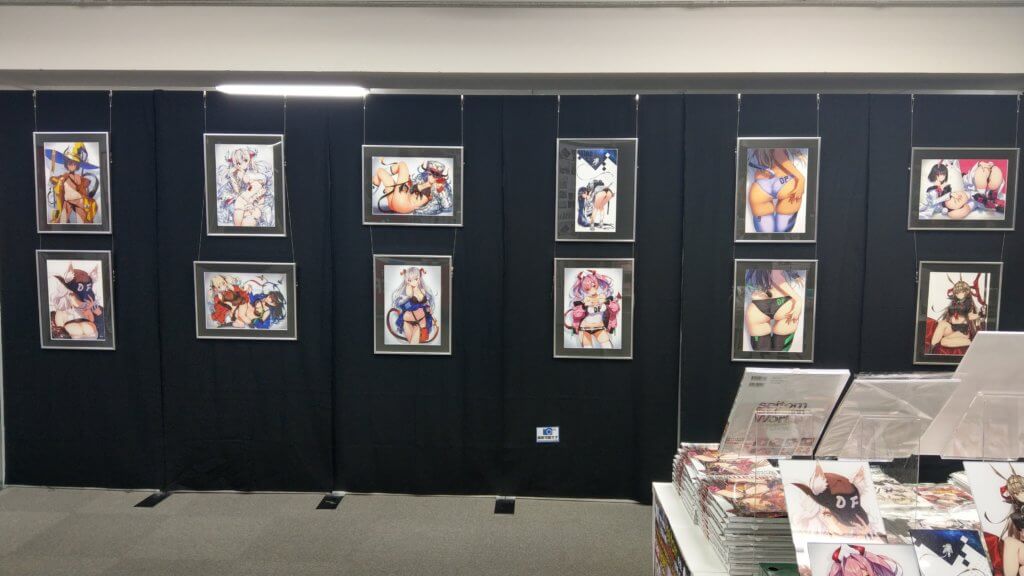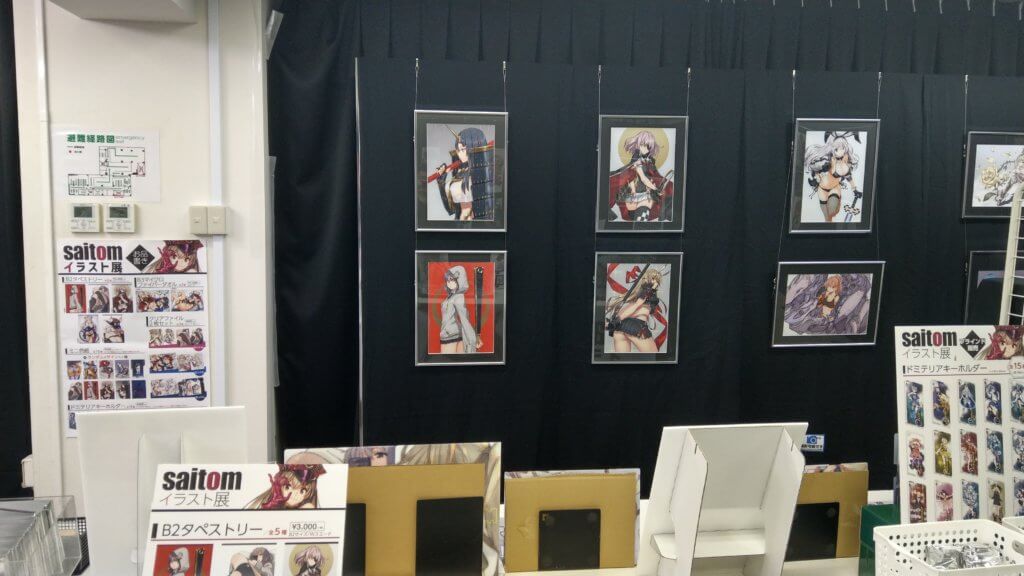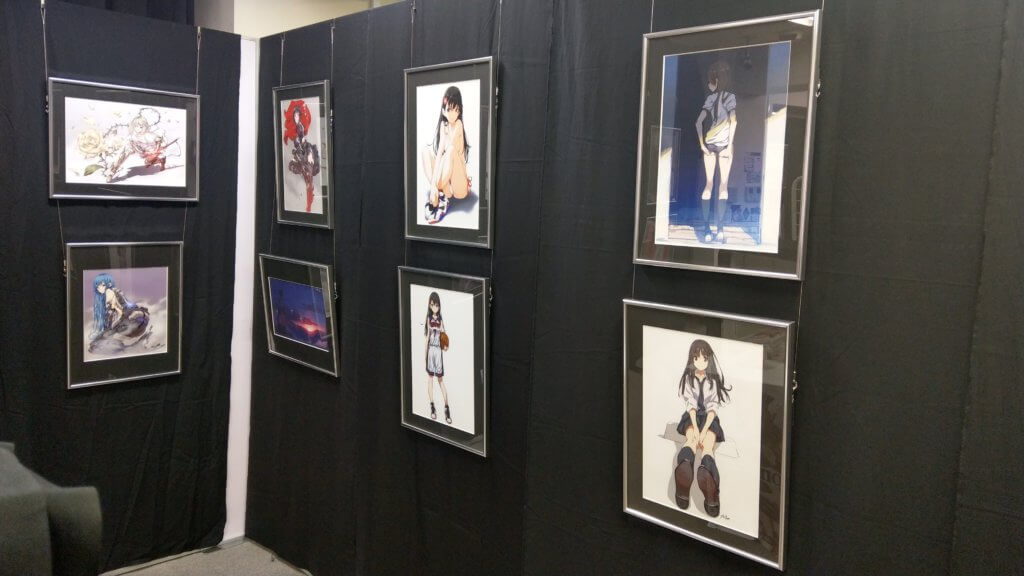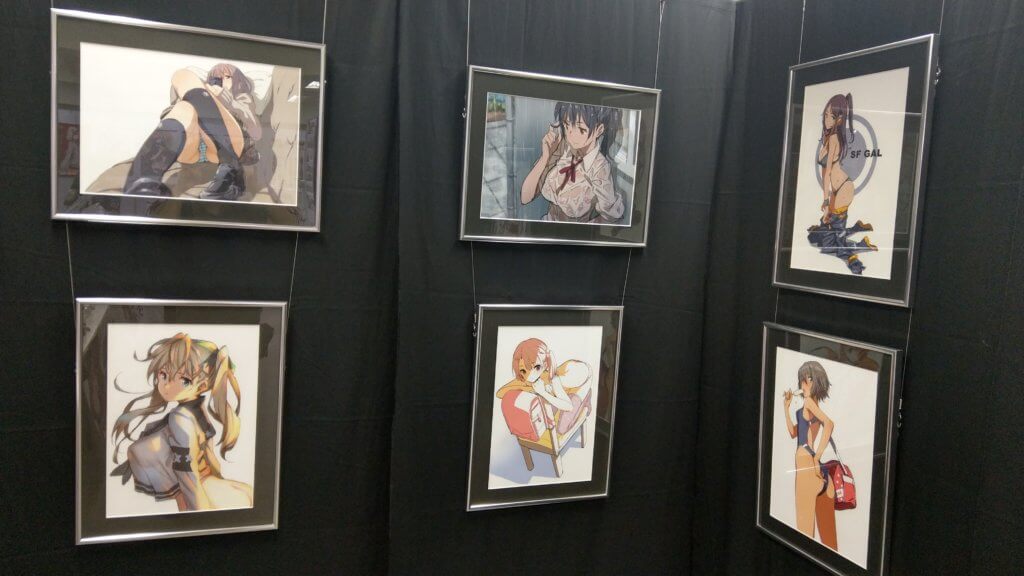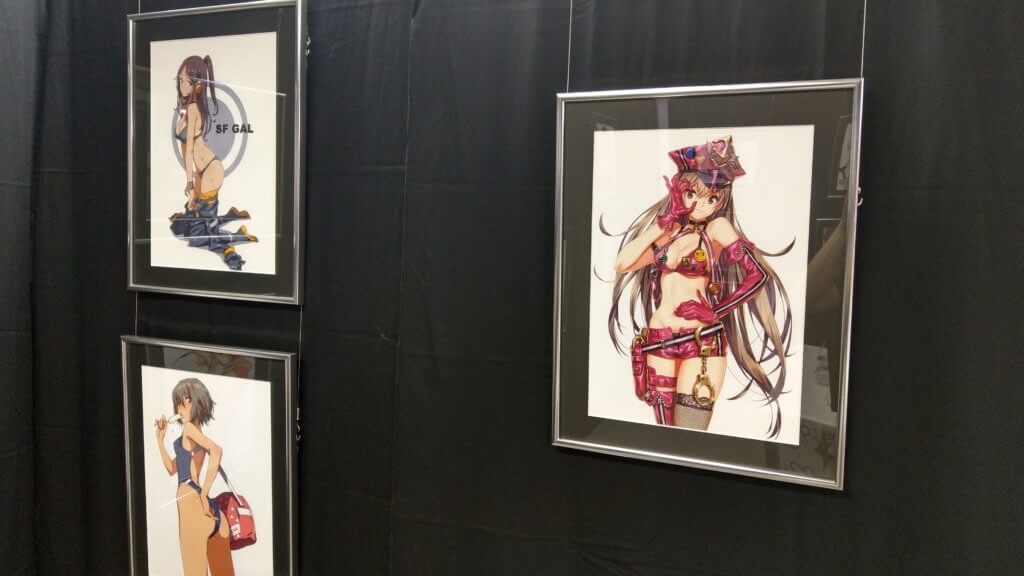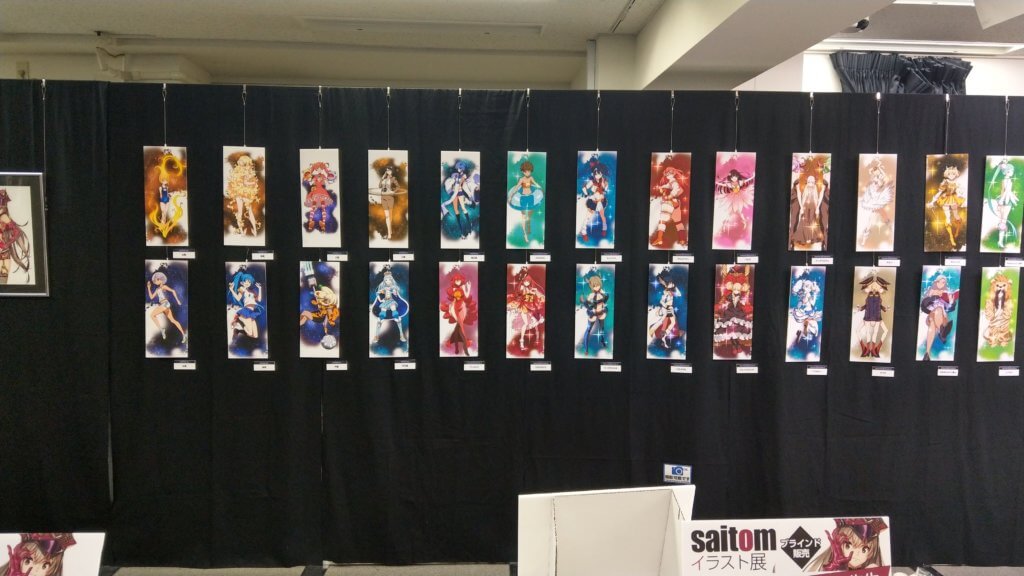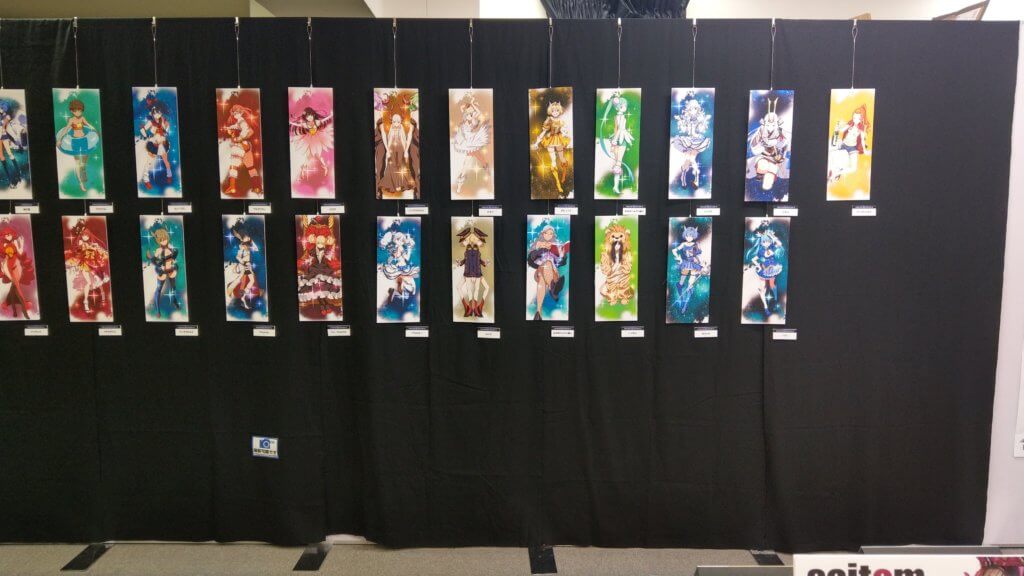 You may have noticed it was not such a large space. If you see all the arts, 5 minutes will do.
It's not unusual, but they also sell his related goods, books, and doujinshi that are not on the lineup. From what I saw on the 1st and second day, some people stopped at those spaces. Perhaps they were not saitom fans but chance customers.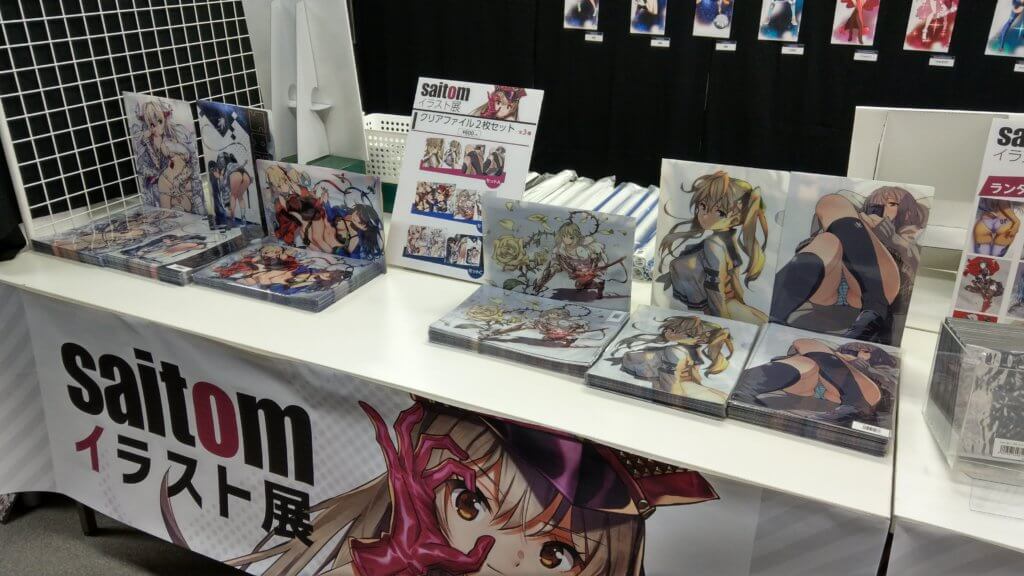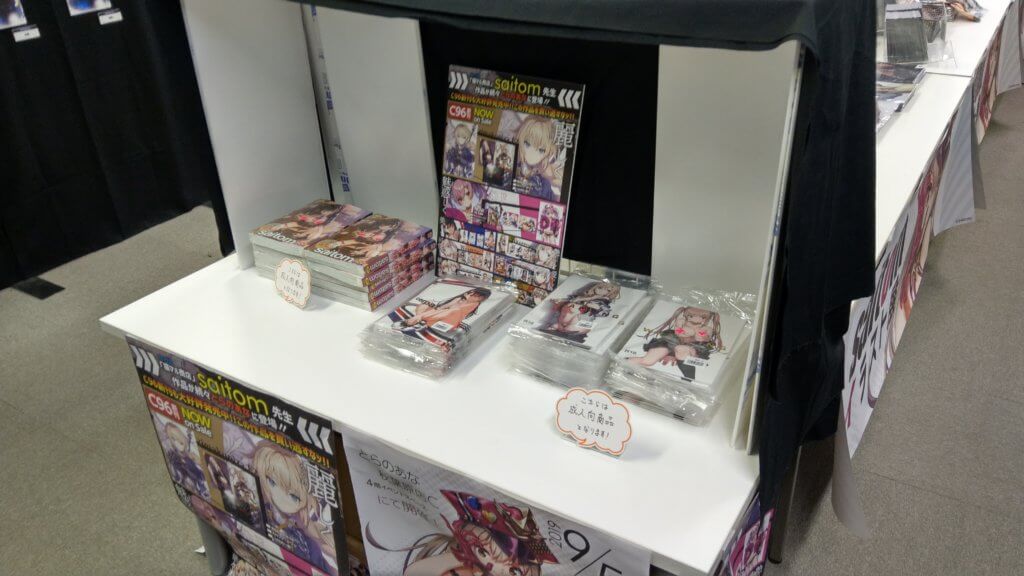 His first and only hentai comic "Let's do it," doujinshi "WRAPPING series," and "cerpat" were available for purchase. Speaking of which, he used to be a porn manga artist. Btw, nipple stickers are pretty funny, aren't they? What is the point of censoring the parts?
"Does anybody buy it? His fans already have one."
A young guy took a copy of "Let's do it" to the register while I was intent on the silly thought. I thought he wanted to fap to something. It sold a few copies over the two days.
I have those books as well but have never fapped to saitom before. Believe it or not, I don't jack off to my favorite artists; that's my belief. (Between ourselves, I almost succumbed to the temptation many times.)
I love his artworks because of his art style, not lewdness. But it's such a shame that due to my belief I have yet to read most pages of Let's do it. What is saitom's take on the likes of me? Who knows?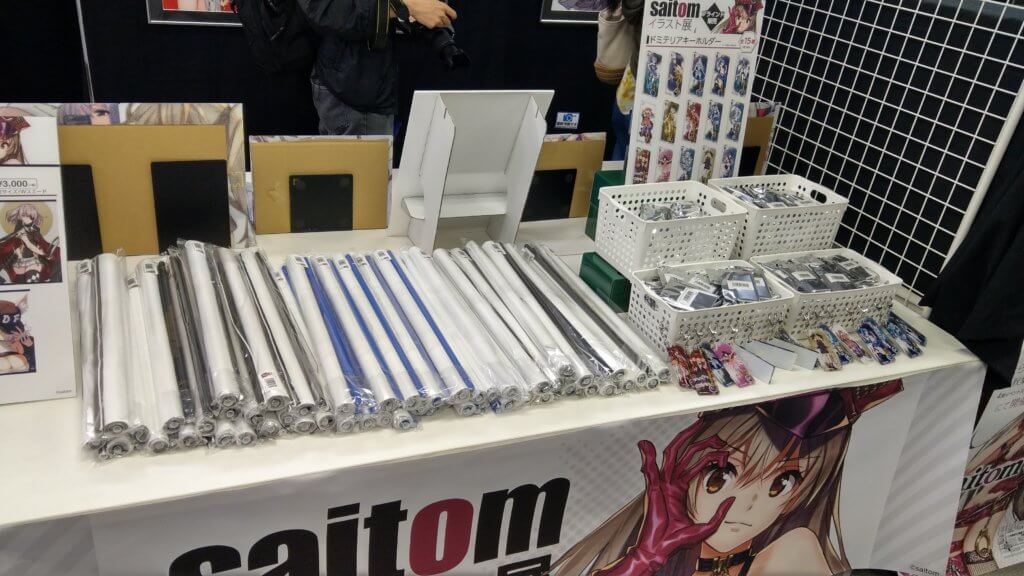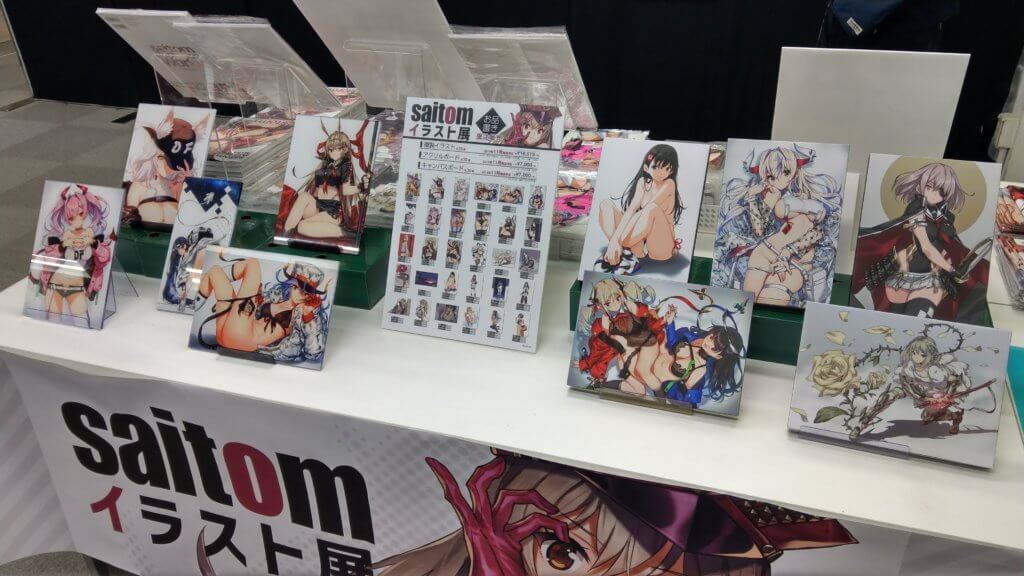 Here are acrylic boards and canvas boards. They are only parts of the merchandise available for preorder. I'm not sure those are the actual items you will get. Someone else inquired of a salesclerk, but he was not sure either. Acrylic boards did not stand alone, and canvas boards were so simply made.
Canvas boards were not so colorful but still had a soothing touch. Acrylic boards had such vividness and graphicness that could rival the reproduced illustrations. Saitom has beautiful painting techniques that go well with colorful printings, making his artworks look even more magnificent!
The price is 7,000 JPY (tax excluded) for each. Though it's relatively expensive, I recommend you to get a copy.
You can take pictures!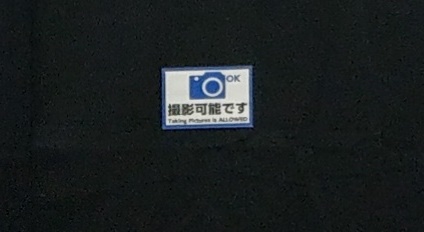 Toranoana operators notified in advance that no photo is allowed at the site except for a coverage use. However, they allowed us to take pictures after all. What's on their mind?
So here's a compilation of illustration photos. Please note that those photos are not doing saitom's artworks justice enough due to lack of skills, smartphone camera, and lighting.
To get them right, you'd best visit the exhibition in person, with your own eyes.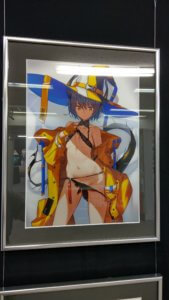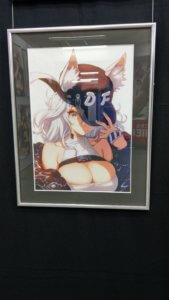 She is one of my favorite saitom girls.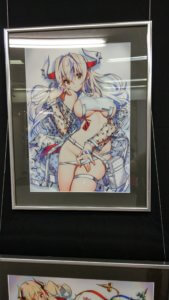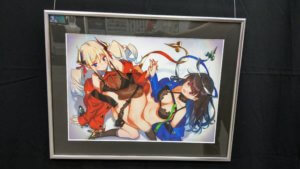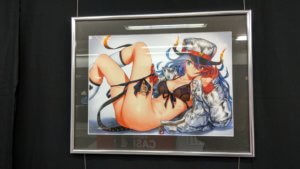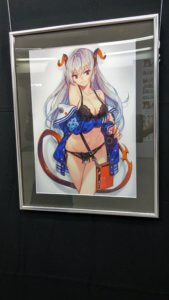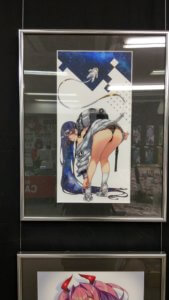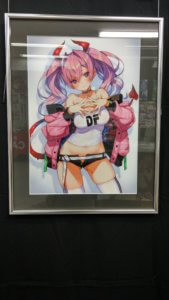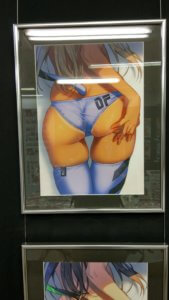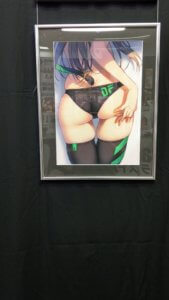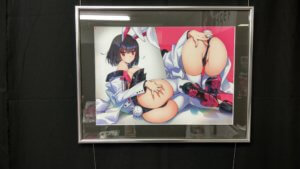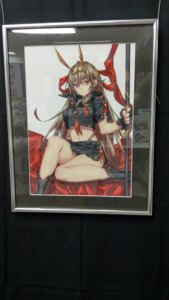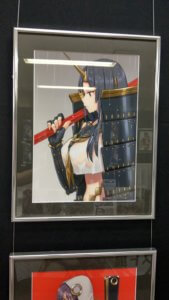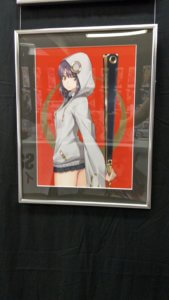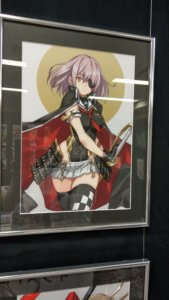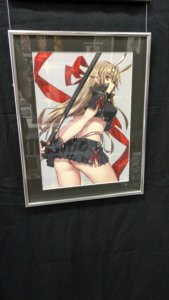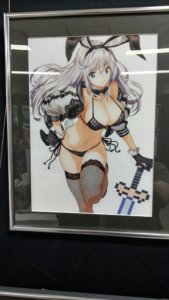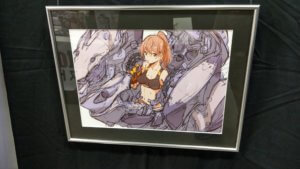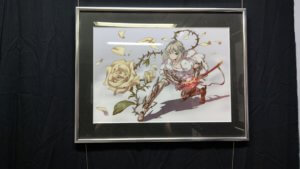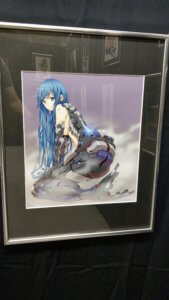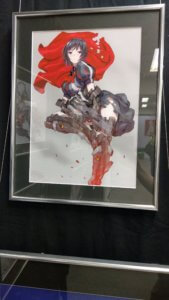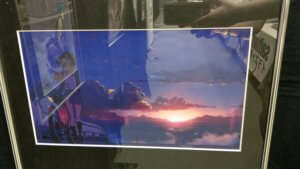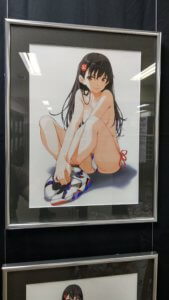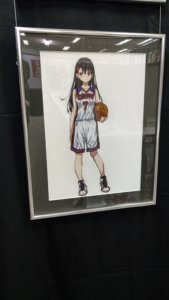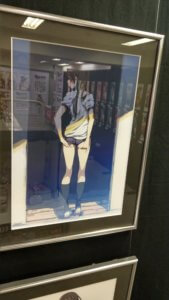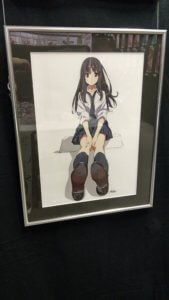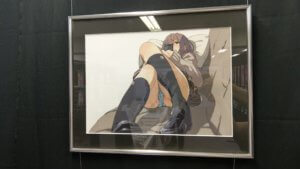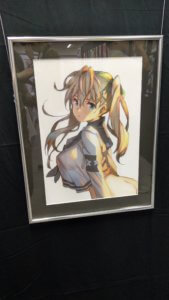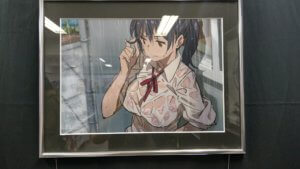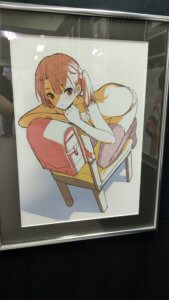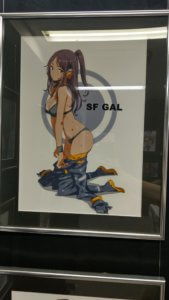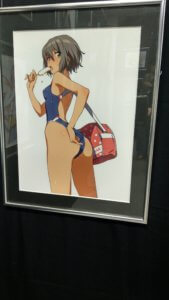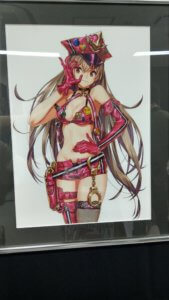 The actual artworks are colorful, vivid, and bright beyond description. It's no wonder that appearance varies depending on printing method or ink, but maybe even saitom's doujinshi is not as beautiful as it should be. The illustrations on display could not be more fantastic. I may be ranting, but it's such a noticeable difference.
I wanted to order some artworks until saitom art exhibition started, but my budget was limited, so I expected to see the actual ones first and then select some of them. Despite that, things do not go as smoothly as you want them to. All those drawings carried me away. I was at a loss which ones to choose. I love saitom artworks so much that I came all the way from the Kansai region1)more than 500km journey, which lead me deeper into a maze with no exit.
"Only if I could get everything!"
I found myself purchasing far beyond my purse.
So my purchase ended up as follows. I don't have any regret or rather wish I could buy more.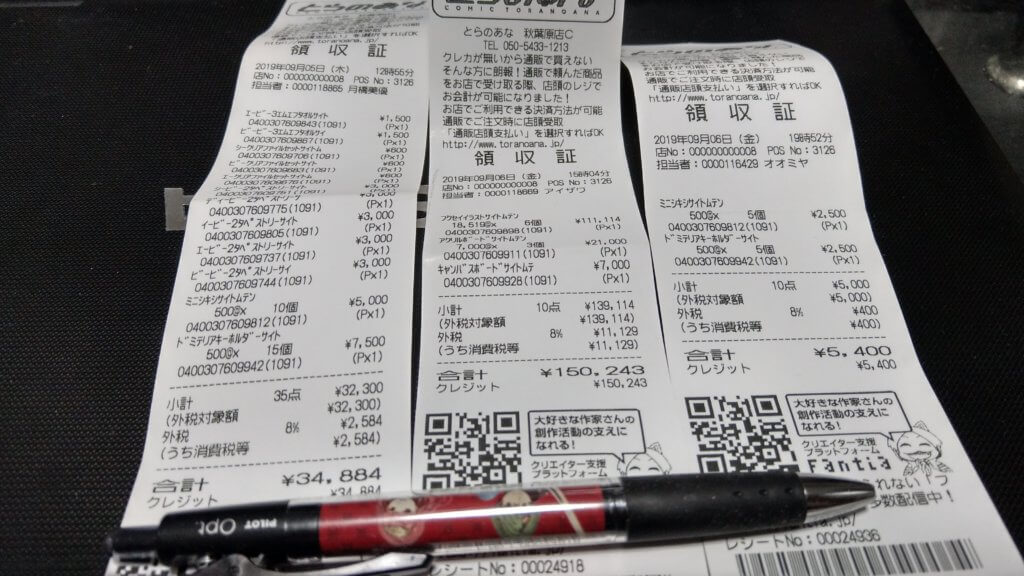 It's the most expensive shopping in recent years, only second to my 4k tv.
I participated on weekdays, so don't know what it's like on holidays, but it was not that crowded, and you'll be able to enjoy saitom world to your heart's content. In my case, I stayed for about two hours on the 1st day, and for five hours on the following day.
If I continued for another week, salesclerks would call me saitoman.
Move on to saitom art exhibition(saitomイラスト展)is worth visiting! [Day1/Cp.2].