On the second day, I paid another visit to the exhibition. The objective of the second day was to consider which artworks I should order and stay there as long as I could. For those interested in the illustrations, please check out the following posts: Saitom art exhibition(saitomイラスト展) is worth visiting!!! [DAY1]/ [Day1/Cp.2]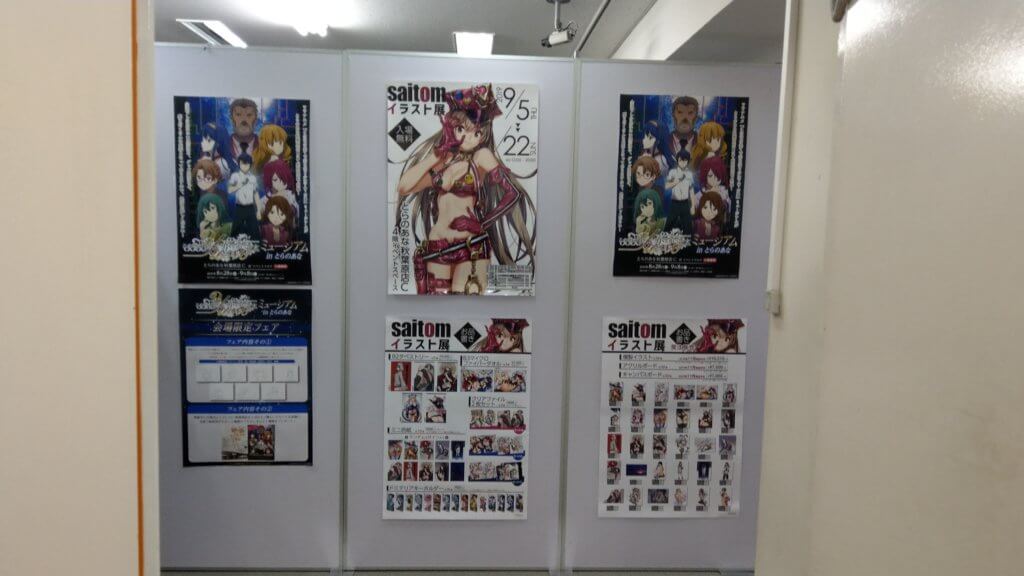 I made it "in time?"
I was the first to arrive at the site on the previous day; wanted to do it two days in a row. But I took an unfamiliar shortcut on the way there and found myself astray so soon, going around and around the same areas. This detour taught me a lesson: "You'd better not depend too much on the smartphone." Thus, it was not until 12:01 that I arrived at the venue. No one was around yet, so perhaps I made it in time. Some of you may wonder, "What's the point?" Indeed it doesn't matter who is the first visitor, but I wanted people to realize how much I loved saitom and his artworks!
Purchase made to order items!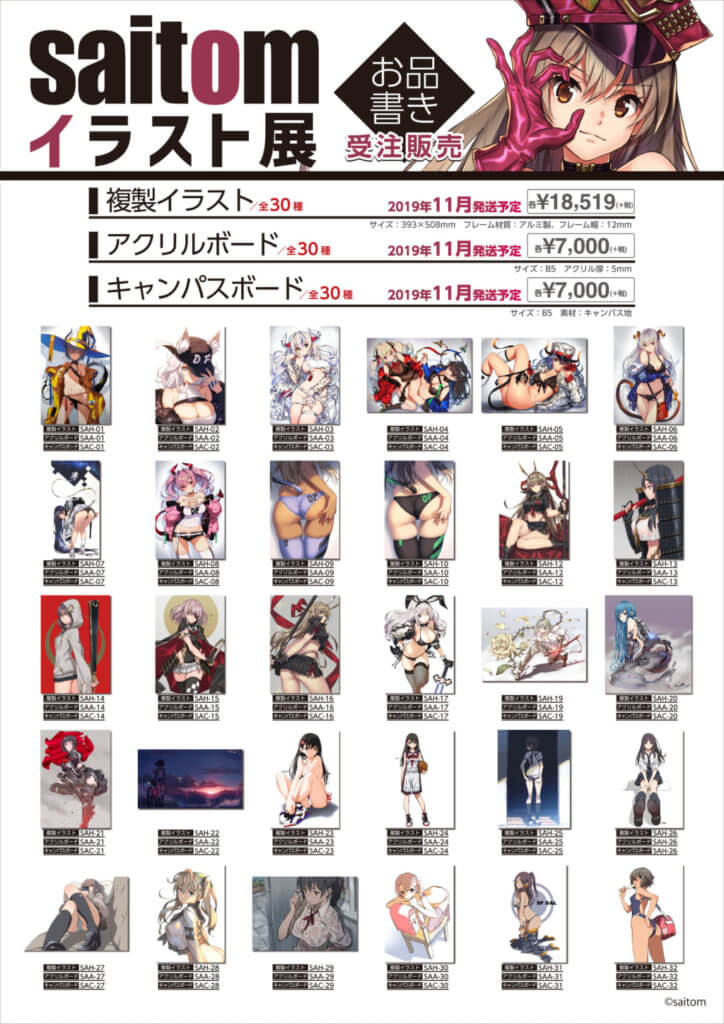 So I've notified you in the post that the exhibition is ready to take an order of made to order goods. Here are the three different items: reproduced illustration, acrylic board, and canvas board. Each item info as follows.
*Citation: Toranoana saitom-ten official page.
---
Reproduced illustration frame
Order type:made to order
Price:18,519 JPY(tax excluded)
Frame Dimensions:393×508mm
Material:Alminium
Width:12mm
surface:Acryl(2mm)
Attachments:Acrylic board, hanging string, outer box
We co-created this high-quality frame in cooperation with a more than 50-year-old plate-making company. 
Acrylic board
Order type:Made to order
Price:7,000 JPY(tax excluded)
Dimensions:B5 size or B5-altered size
Material:Acryl
Thickness:5mm
Canvas board
Order type:Made to order
Price:7,000 JPY(tax excluded)
Dimensions:B5 size or B5-altered size
Material:Wood
---
I had too many items to choose from and went through such a hard decision-making process because I wished I could buy everything! I had difficulty in making a final decision over three hours from the opening. My budget, taste, and balance—all things considered, I got these.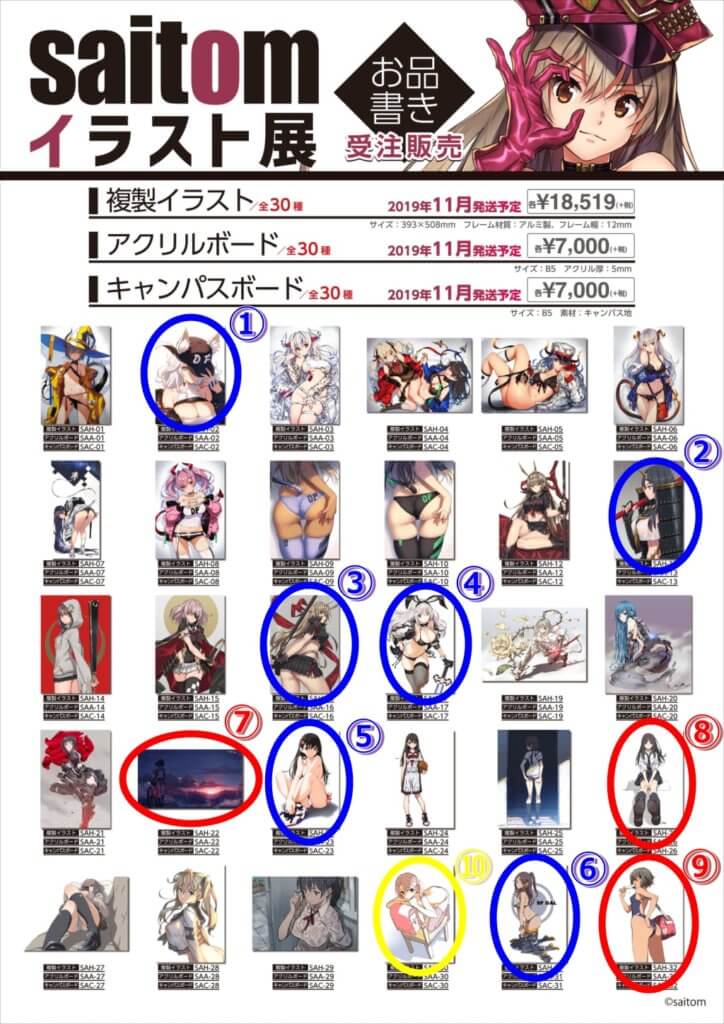 The blue circles are indicating reproduced art frames, the red ones acrylic boards, and the yellow one canvas board. Let me tell you why I chose them.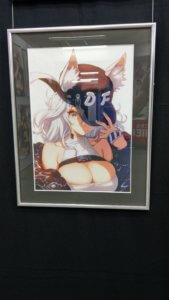 ➀ A huge-titted girl with beast ears from DF. This frame shares the drawing with the tapestry, but she is still my favorite, and as far as she was concerned, I was already determined to purchase ahead of the time.
She has stunning breasts pressed by a belt and damn-good pure eyes. Glancing up is just amazing, too.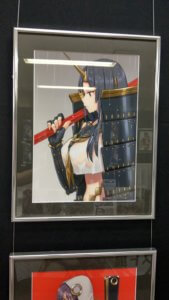 ② It's Shamisengusa(三味線草)from Nanten. She is looking aside when getting soaked, which looked both very attracting and unusual to see when it comes to saitom artworks.  
She is a stunning beauty with raindrops falling on her head.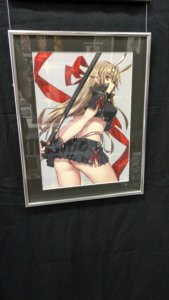 ③ It's Nishiki-Utsugi(二色空木)from Nanten. She has two different arts for the frames, but I excluded the other one, of which I had a tapestry. Saitom draws voluptuous girls and emphasizes them in painting to my taste. With that in mind, I had the lust that drove me to the final decision: "I'd like to see some butts."
Her curvy waist and hips are irresistible!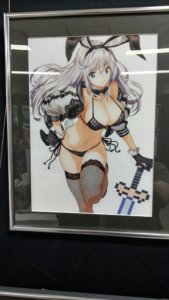 ④ Yuu Usada from Zimakupiza. But for a reason, I'd have ruled her out as I had an acrylic frame. The key to selection was her sister, Mimi. She had no goods other than her tapestry issued in C96 or no illustration on display. She could, however, be in another exhibition if Toranoana would hold it. And each art of the sisters is symmetry so that they would look greater side by side. That's why I added it to my purchase list. 20,000 yen seems like an extra fortune that I have to invest in the future dream!
I can't wait to see the booby sisters standing alongside!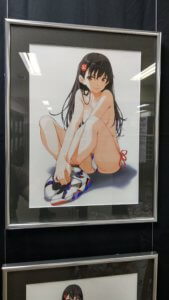 ⑤ It's Akari (燈) from cerpat(X-rated). The white background is making her skin look more beautiful and imposing. This art is not just enticing but grabbing.
She is almost naked except for her lower body, which is so seducing.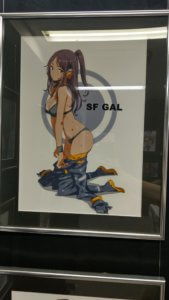 ⑥ A girl from GRAFFITIES VOL.1. I have the book but haven't read it yet. I'm not sure how to describe it, but anyway was struggling to choose this one or the ⑨ one.
She's got a nice sunburn in harmony with the scene of getting undressed.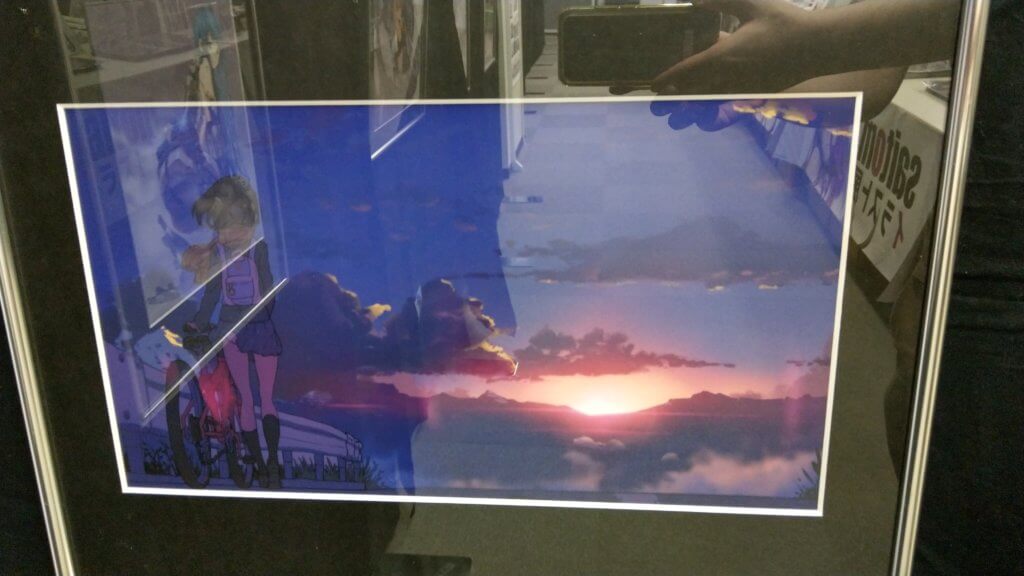 ⑦ This frame would not seem to be by saitom at a glance. You can't see the girl's face either, but the viewing is so picturesque with a strong touch. I ordered an acrylic board so that it would look more impressive, due in part to my limited budget.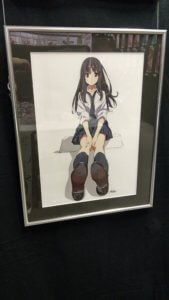 ⑧ Since I have not been so long a fan of saitom, I'm afraid I still have a load of unfamiliar artworks. Saitom Illustration Works tells me only a little about this drawing. I wanted saitom autograph like crazy, but my luck failed to give me a signed art card, I decided to have the frame instead.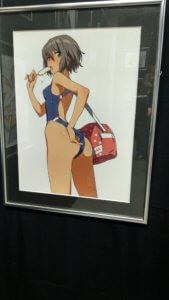 ⑨ A swimsuit girl from UnisiS 3(X-rated). No doubt she has a name I don't know because I haven't read it before. She is eating a popsicle while straightening up her swimsuit, pretty pleasing to the eye. This frame is going to look good in an acrylic board, as well.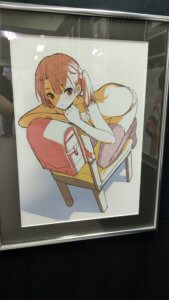 ⑩ A Loli from GRAFFITIES VOL.3. Saitom is likely to draw babyfaced characters, and I didn't expect to see such a loli like her. Drawn in a soft touch, I thought she would go well with a canvas board.
Some failed to make it to the final.
I made some heart-breaking decisions after three hours of pondering.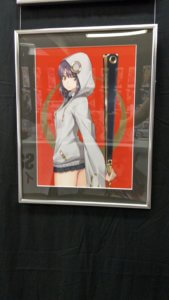 Kurinsou(九輪草)
She is one of the Nanten girls such as Nishiki-Ustugi and Shamisengusa. I eliminated her from the contest, but Alas, she is so cute…! However, this frame shares the art with the tapestry! Arghhhhh! It's such a shame. She was adorable as hell, but I had her tapestry, so had to give it up. I should have saved more money…or you should have announced it earlier…!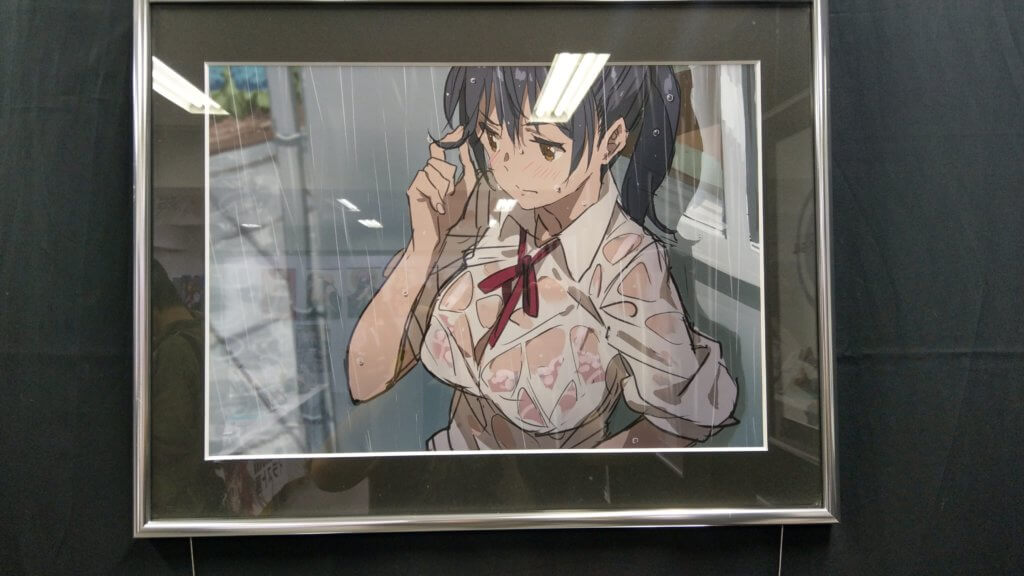 Although her name is unknown, this chick is pretty good, too. Her expression and the atmosphere couldn't be better. Despite all of that, I don't like a rough sketch that seems like a scribble. Only if this frame were more properly done…! I do admit some like it.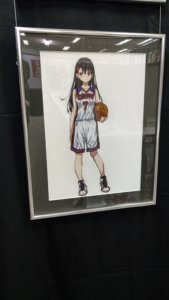 Akari(燈)
This one was neck and neck with the cover art of cerpat; not many of his drawings have an entire figure. Since I don't like a rough sketch, the cover art came before this frame.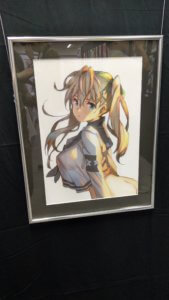 She is also available in a transparent file holder. She is looking both depressed and mysterious but wearing no panties, which is quite unmatched, so I like it all the better. It's lewd!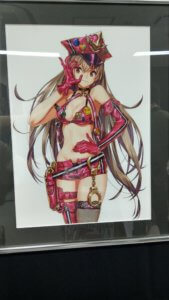 The cover girl for saitom Illustration Works. Maybe saitom loves her because she is the "face" of his first artwork collection1)This is only my speculation, so don't take it too seriously.. I felt like considering his feelings and buying it. But unfortunately, I could not afford to get an additional frame. I tried to look on the bright side, "this was one of his representative artworks that were highly likely to get another chance," so I thought better of it.
Let's go purchase!
It's not interesting, but I show you the ropes to place an order.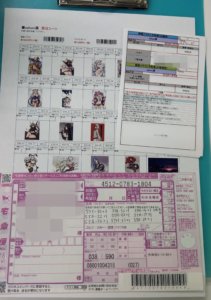 The procedures consist of three parts.
1. Put the number of each item on the order form(受注シート). 
2. Fill out the delivery form your address, phone number, each of item codes and pieces.
3. Fill in the 店舗控 your name, furigana, and item number. You will have to fill out the form for each different item. If you buy three pieces, then you have to complete three pieces of the forms, quite burdensome.
Oh, come on! What's the point of procedure 3?
I spoiled some pieces of paper while filling out those forms. I was too lazy. So guess how much it cost…?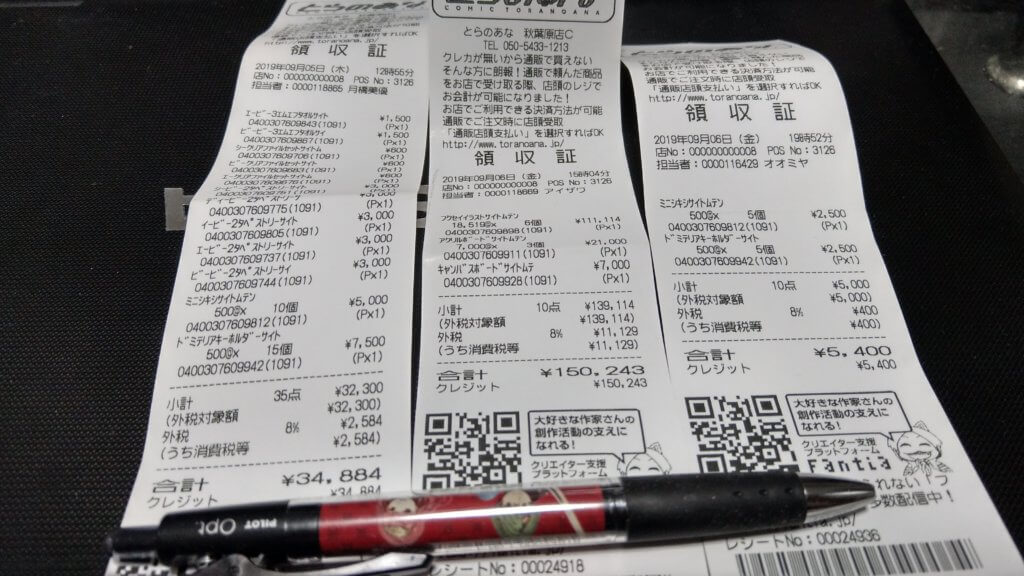 The front one is a receipt for made to order items.
Reproduced frames(18,519 JPY)×6+Acrylic boards(7,000 JPY)×3+Canvas board(7,000円)×1=

139,114 JPY
Eight percent consumption tax adds to the sum, and that will be 150,243 JPY in all!!! (Approximately 1400 USD!)
Japan will hike up a consumption tax this October from the current 8 to 10 percent. Luckily, they held the exhibition in September, anticipating the higher tax rate. Thank you saitom! Thank you Toranoana!
How many "made to order items" were selling?
The sales did not seem that well, as evidenced by the fact that a pile of the application forms almost left untouched. As described above, you have to fill out all the forms to complete your purchase. 店舗控 serves as a receipt reserved by the shop, and each paper has a particular number. That means the more orders, the fewer pieces of paper. Since I quitted viewing in two hours on the first day, I was not sure how many they sold, but on the following day I saw only a few guys handing in the forms, and therefore no one bought as many as I did. I hope hard-core fans will gather on holidays to boost its sales in a desperate attempt to make saitom happy.
On a side note, those made to order goods are more beneficial to saitom, perhaps? If so, I'm so proud and happy to make a significant contribution to my favorite artist.
Closure
I had to fulfill the other objective: to enjoy his artworks until the closure. I spent the rest of the time getting immersed in absurd delusion, viewing illustrations and buying some domiteria and art cards. As the closing time came nearer and nearer, a salesclerk started talking with someone who seemed like the shop owner. From what I heard, it's about closing the book. As the clock struck 8 p.m, I expected to hear, "It's time for closure," but no one announced anything. In another few minutes, they began pacing up and down. I thought now is the time to go and as I exited the site, they said, "Thank you (for coming)," and got around to working. I did nothing but murmur my thanks. 
Later on, I should have appreciated the operating staffs for having the first exhibition of saitom. Probably they would rather straighten up the room than listen to me. At the end of the day, I had stayed for five hours, and what did they think of me?
If they told saitom, "Some fans were getting absorbed in your arts for so long," then nothing would be as delightful. Please treat me like a maniac XD
Wrap up
It's nine months since I purchased his doujinshi at C95. Surprisingly, one year has not passed yet. I have to say I'm lucky to go to his first exhibition even though a noob fan. Old fans should have more to convey. Nowadays, too many artists are out there, but saitom should be happy to attract people with his artworks alone. I'm also glad to be as parts of this superb event.
I ask you to go there no matter what, especially if you believe you're his fan. Don't you think it's great to support him by purchasing what you want? If you're just interested, visit the place anyway. Saitom would like to see someone moved by his drawings even if they're not his fans. 
Since I'm one of his fans and supporters, I just pray for its success.
---
For oversea viewers, if you're saitom fans, it will be difficult to come to Japan for the sole purpose. Then, how about doing this? Shopping ahead of the time! Japan will see a consumption tax hike this October, and prices are going to rise in relation. But this is a good opportunity for foreigners who would like to buy Japanese items. You can have two objectives. Saitom exhibition is held between Sept. 5 through 22, and the higher tax rate will take effect in the coming month. So you should come to Japan at the best timing, and now is the time to take action!!!
Saitom's tweet
とらのあな秋葉原店C4Fイベントスペースで開催されていたsaitomイラスト展は本日最終日を迎えました。お越しいただいた皆様ありがとうございました。

— saitom (@_saitom_) September 22, 2019
Saitom tweeted, "It's the final day of Saitom art exhibition today, which has been held on the 4th floor of Toranoana Akihabara-branch. Thank you all for coming."