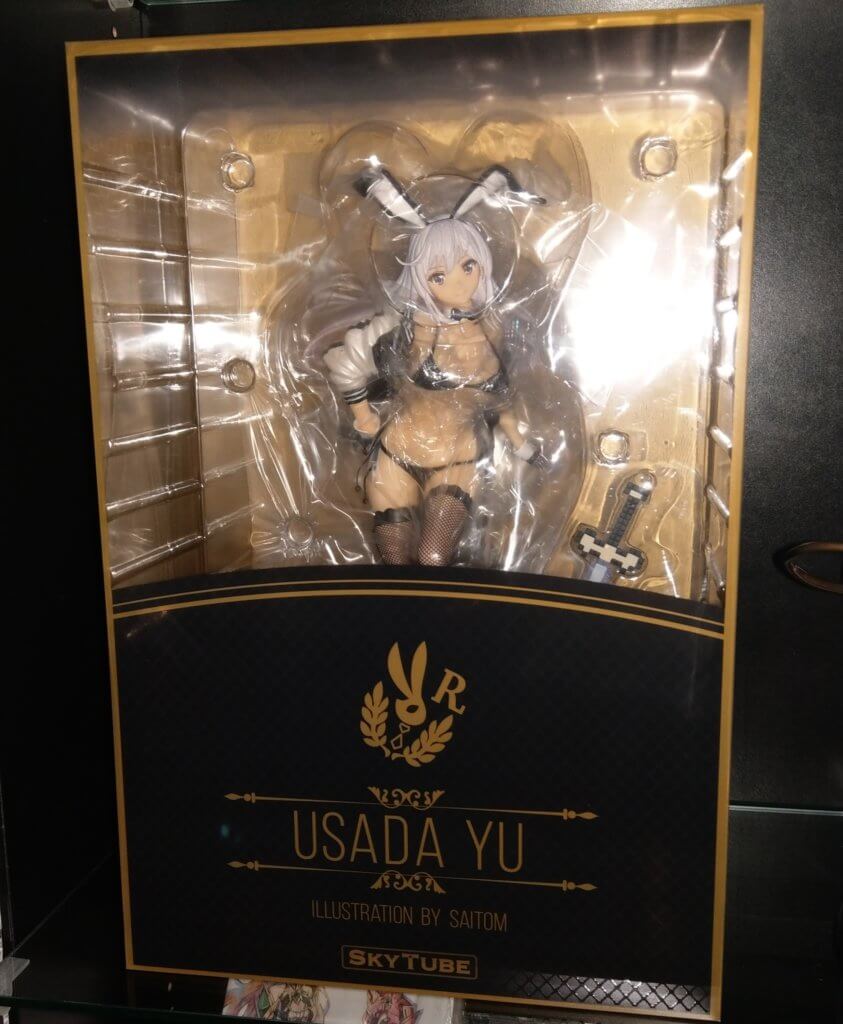 Here comes a pretty bunny girl! She is the cover girl from saitom's doujinshi "Zimakupiza." This post is about unboxing her brand new scale figure that comes out on May 12, 2019.
"Saitom presents a full-colored artwork collection featuring video game characters. There is a lot of attractive illustrations for Monster Hunter, Fleet Collection, and Granblue Fantasy, which will surely make you feel like playing the games!"

(Quote:

TORANOANA item page for Zimakupiza

)
Long story short…?
A sexy (but not porn) artwork collection of video game characters. Its rating is "for everyone," so you won't see any graphic images or sexual contents except female nipples. Unfortunately, the doujinshi doesn't go into detail about Yu Usada other than being the cover girl.
*New info is out in Comitia 128!
Item: Yuu Usada illustration by saitom
Origin: Saitom Original Character from Zimakupiza
Dimensions/Height: 1/6 scale

(5 inches)

, about 28cm(excluding base)
30cm (including base)
Material: PVC/ABS
Bonus: Postal card
Price: 15,800 yen(excluding tax)
Sculptor: EGG
Release Date: May 12, 2019
JAN code:4562283280747
(

※

JAN makes it easier to tell apart bootleg figures from genuine ones.)
Her hair color
Her sample had a thick purple hair, but the actual product with a purplish-grey hair is a lot closer to the original illustration, which is an appropriate change that pleased me.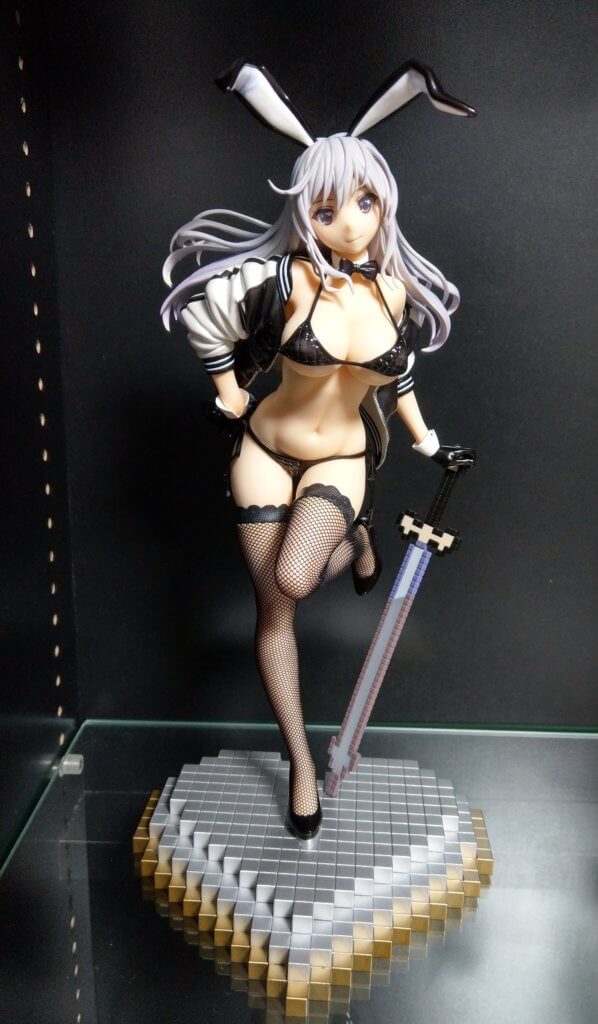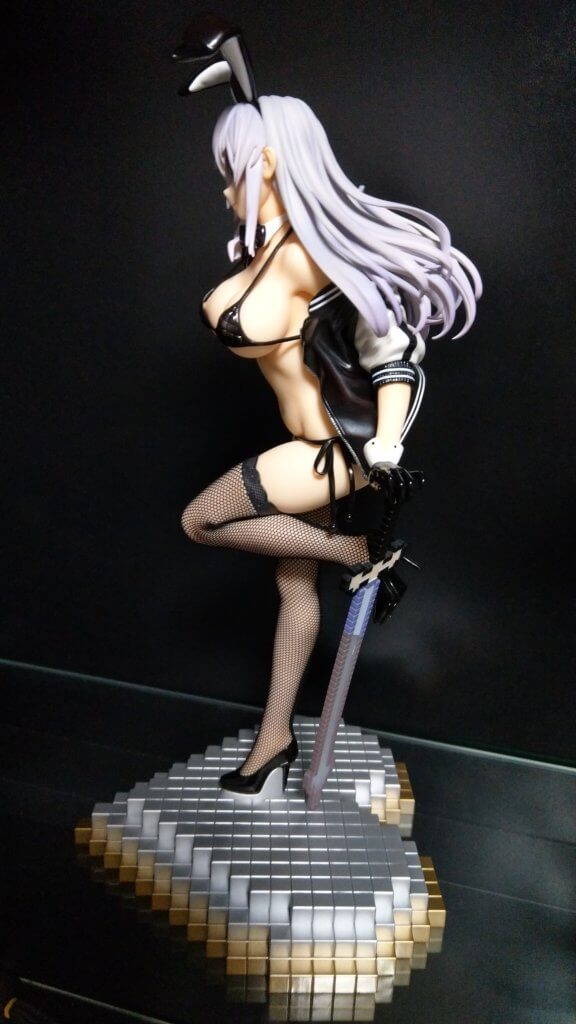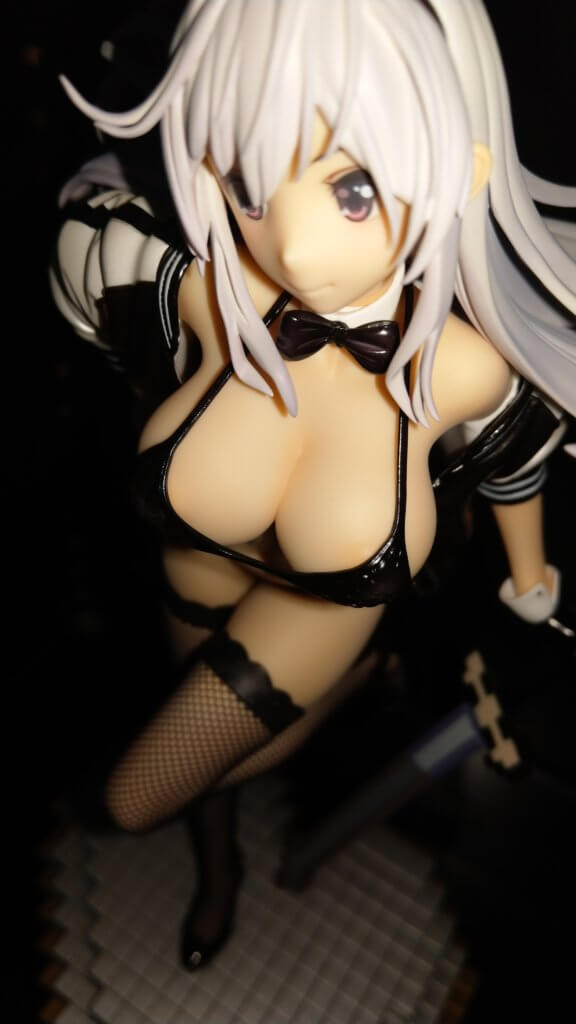 Her bikini-like outfit is not covering her entire boobs and giving us a glimpse of her nipple.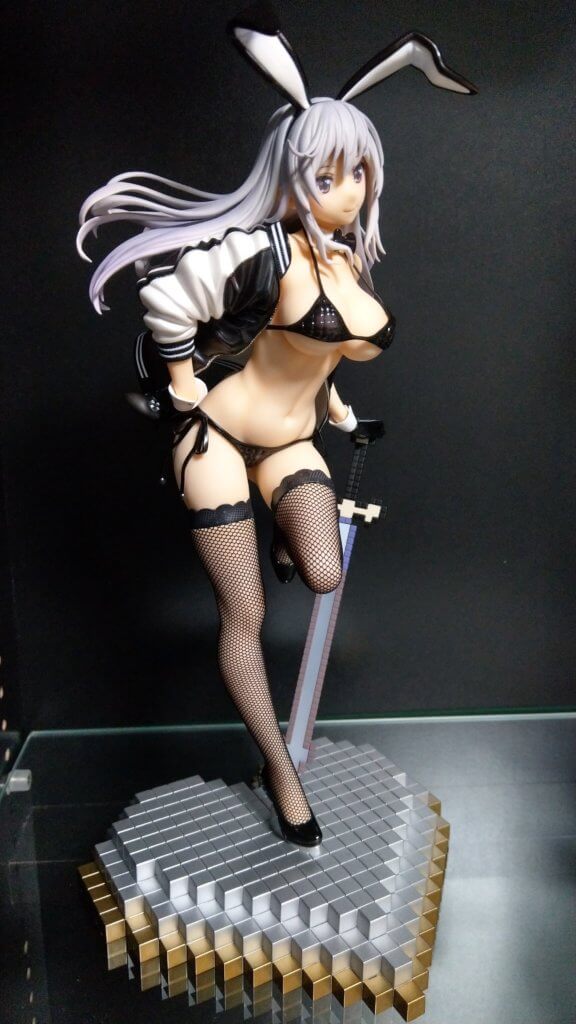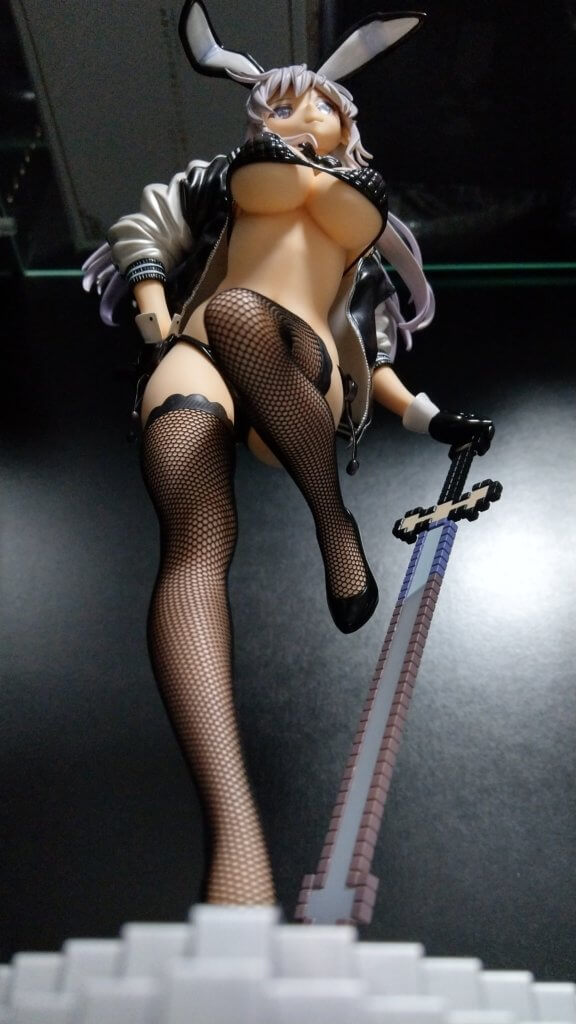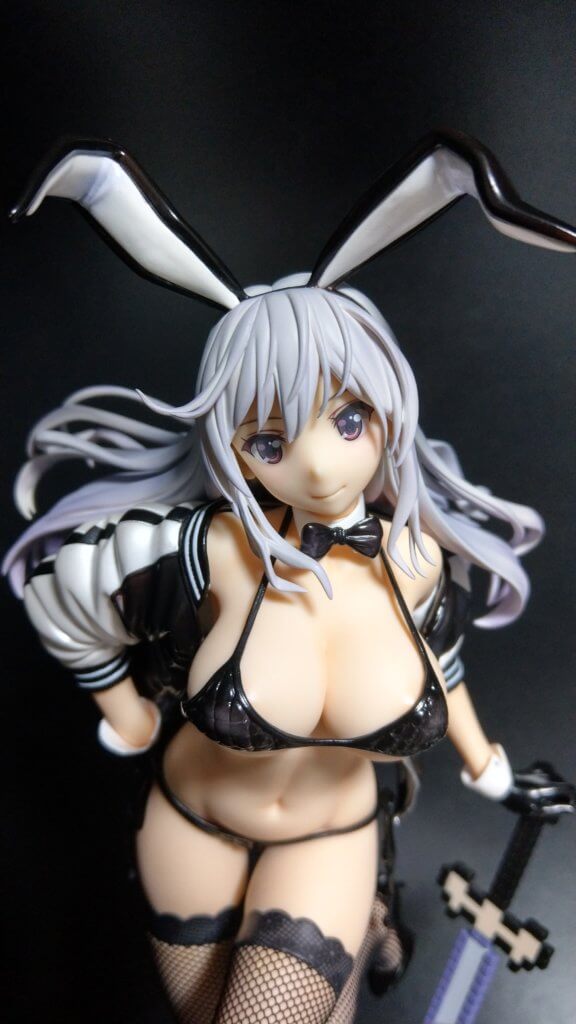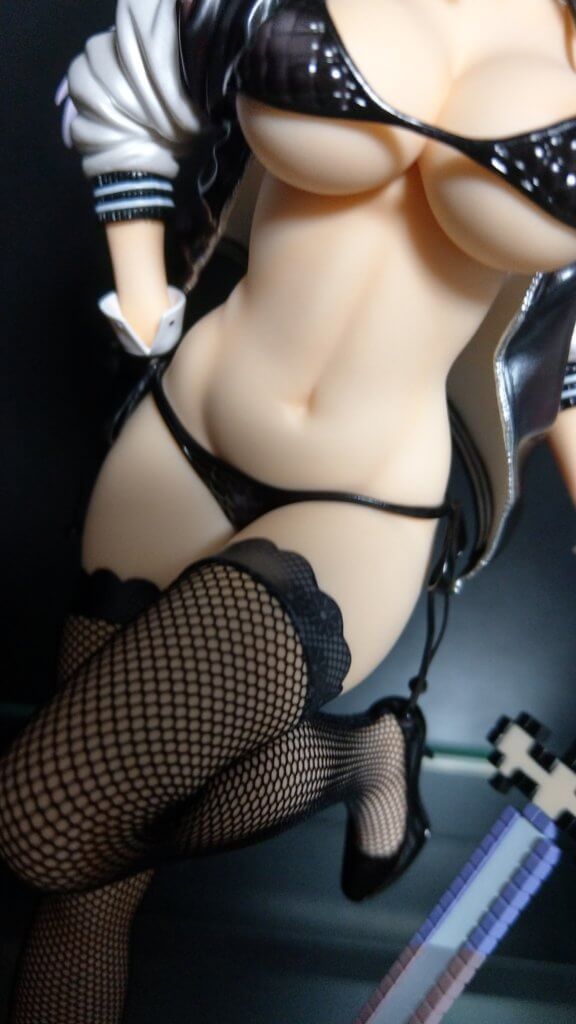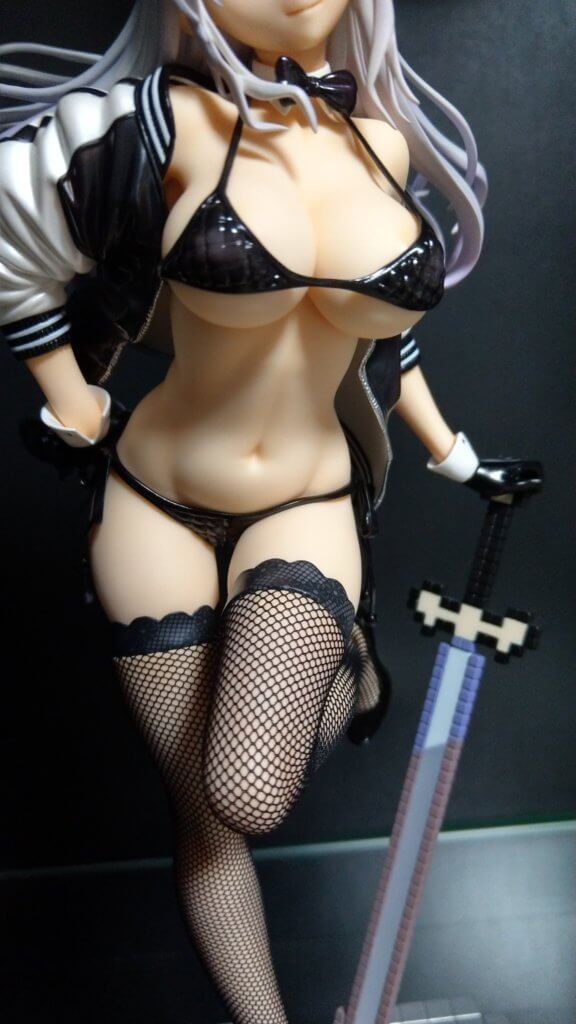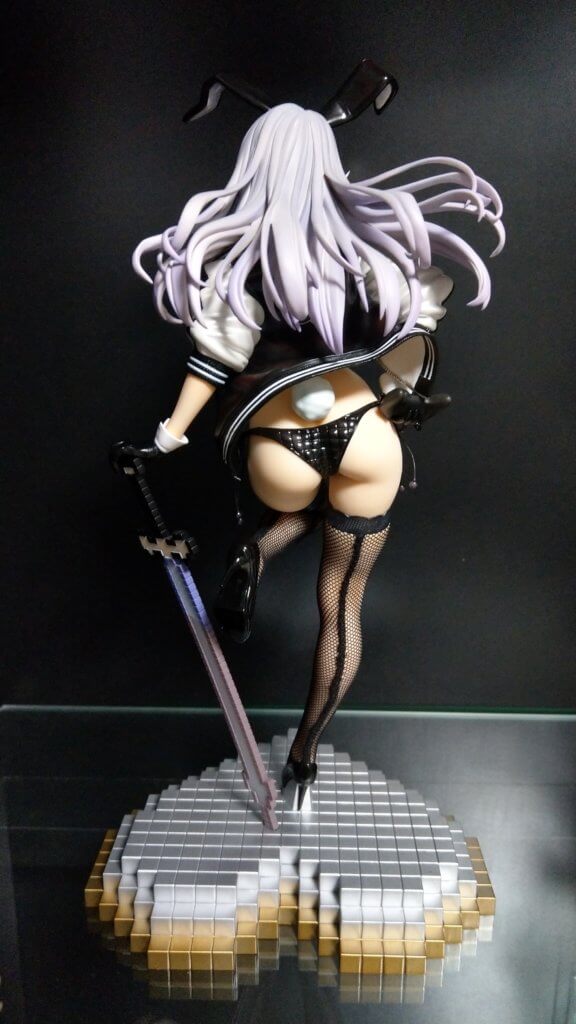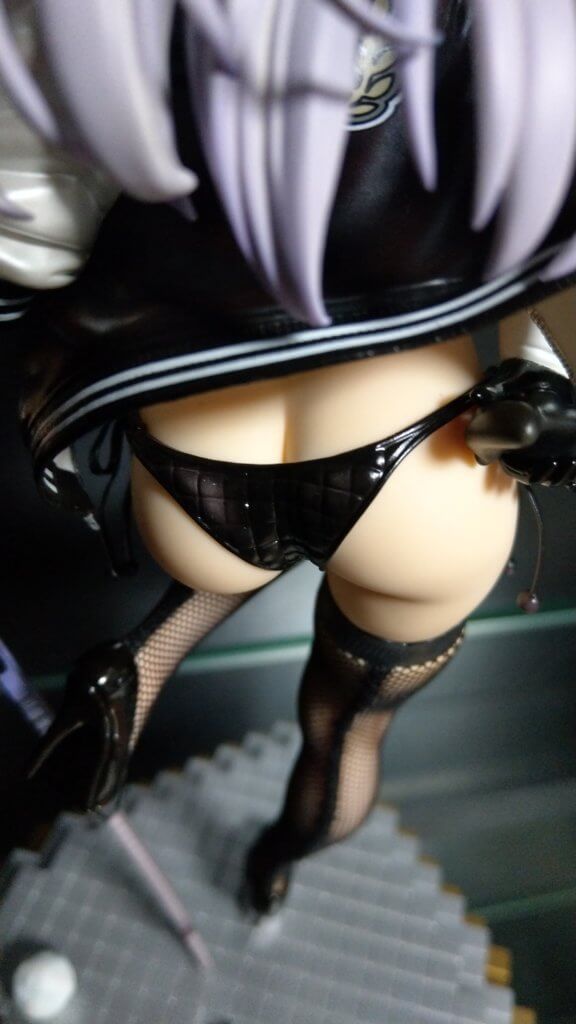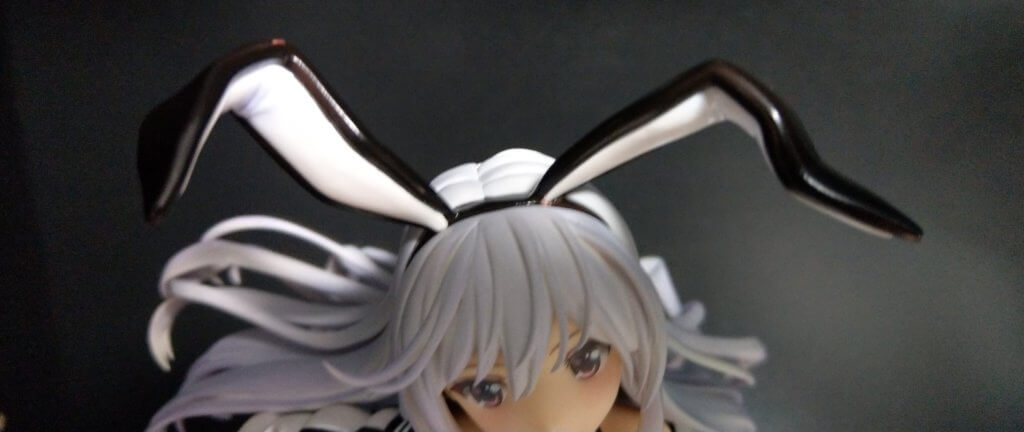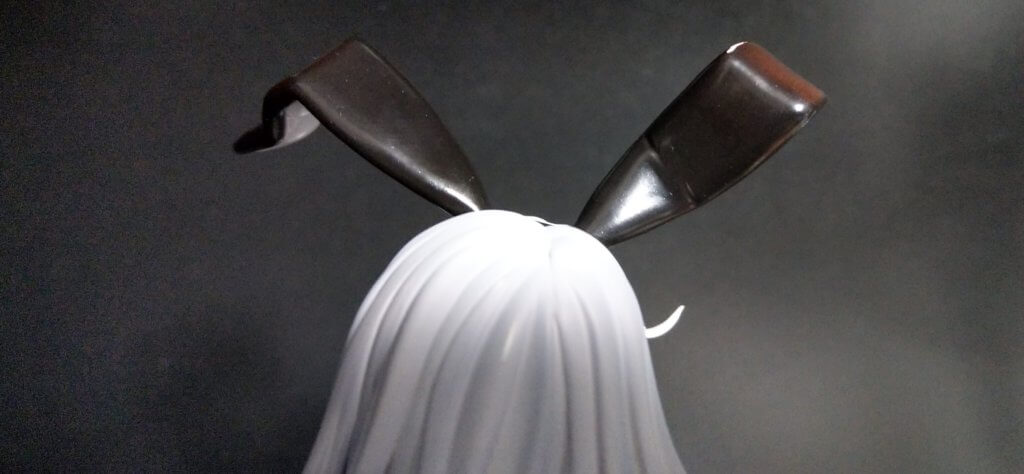 The glossy black swimsuit is making her look better.
Removable Tail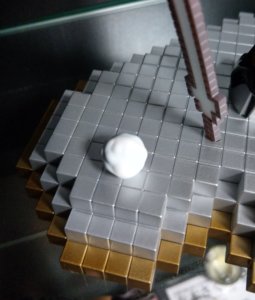 Here's the tail component. There's no need for any holes in attaching this thing that has a magnet inside. So all you have to do is to put it on her waist, which also has a magnet embedded.
Doing it allows us to enjoy her nice butt without anything getting in the way. Her curvy ass is so seducing that I can't take my eyes off!
Her face needs altering to some extent.
I hate to say it, but when it comes to her face, fidelity to the original illustration still has room for improvement. In my view, saitom's artworks seem suitable for figures; this one could have been better.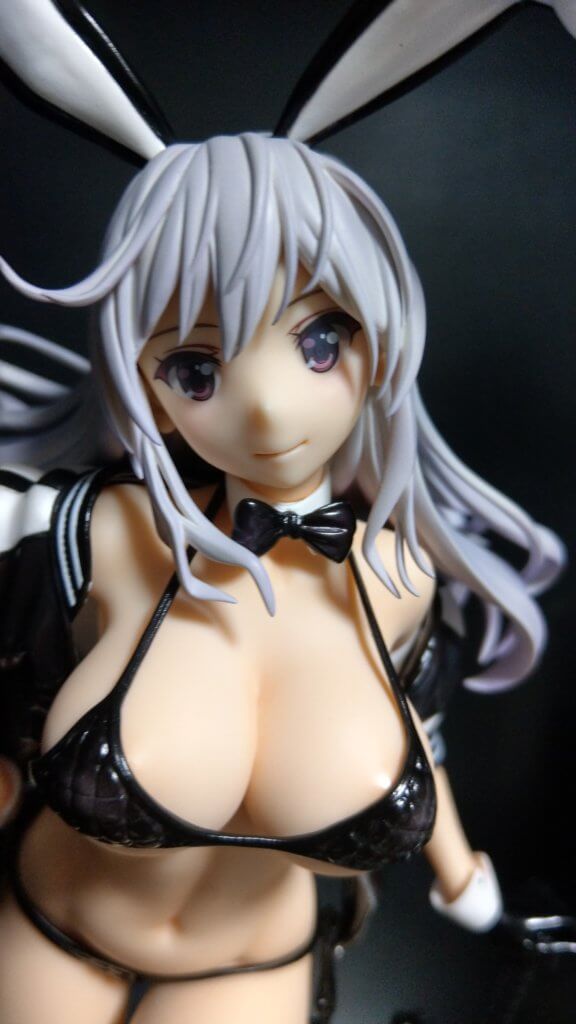 Let me think. It would be better if it had more round eyes?
Fragile Sword
This figure comes with a dot-like sword to put into the base. You should handle it with care; the pic below tells you why.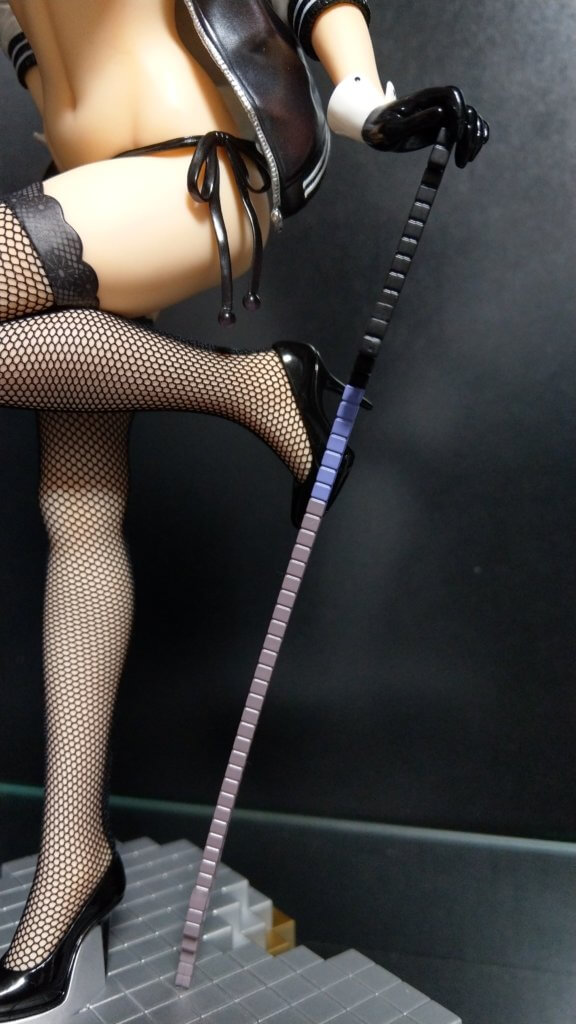 As you can see, its body is somewhat bent. To fix the sword on the paw, it needs to lean backward and nevertheless gets warped like that. I'm afraid that constant stress on the bottom will break the part sooner or later.
Is it an individual difference? I have to wait and see more reviews.
Get undressed!
I guess this is what you might expect from a porn figure.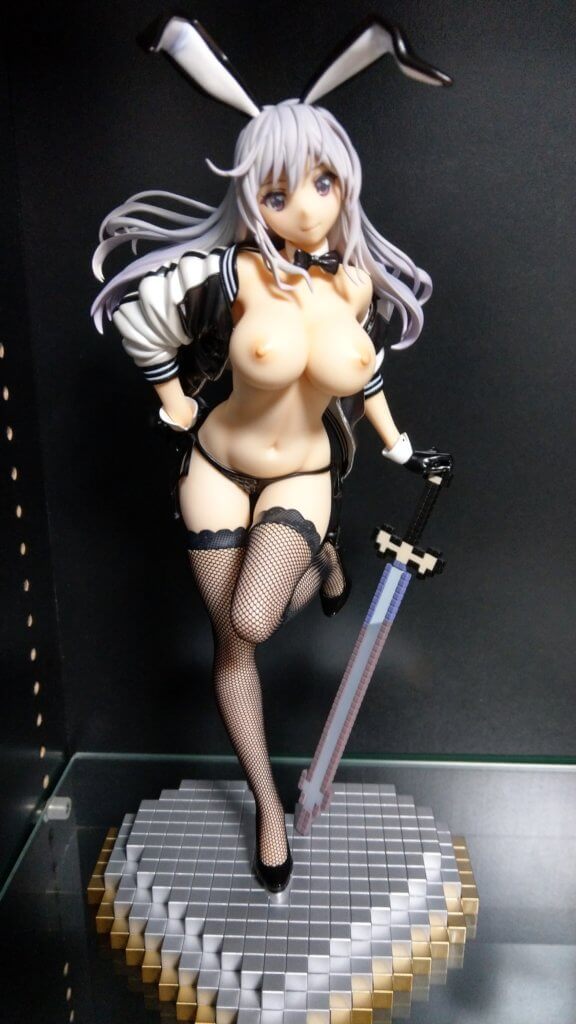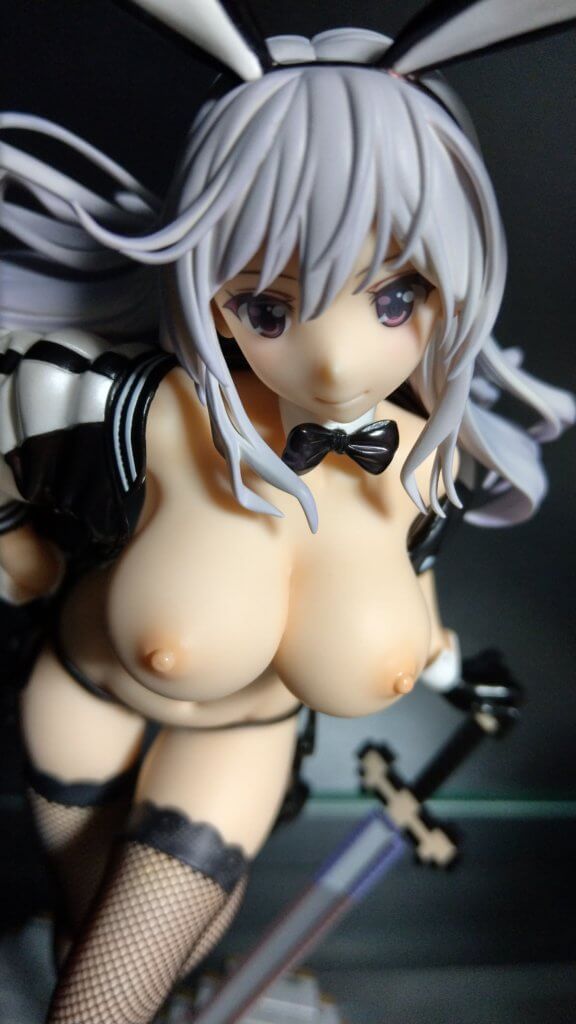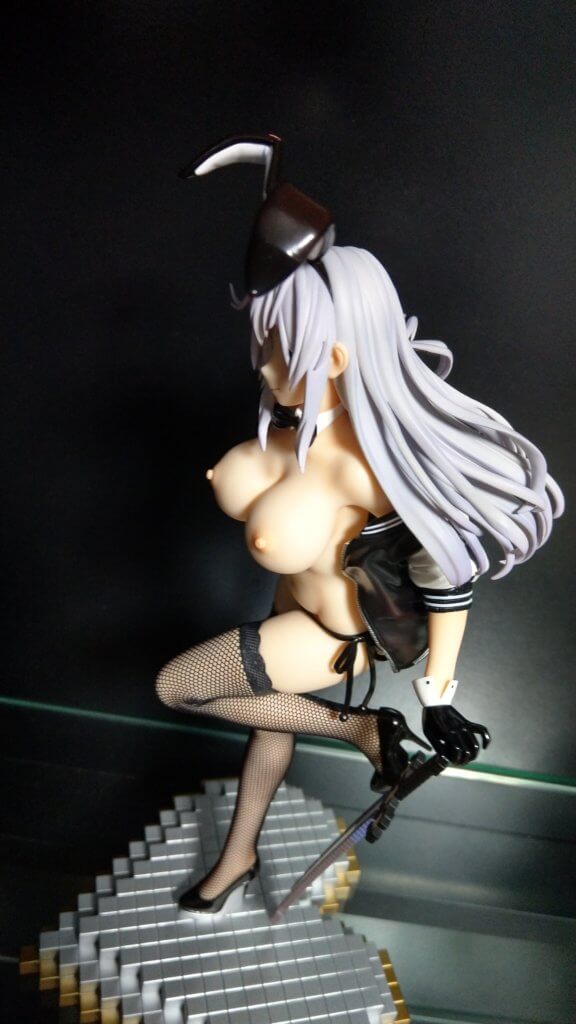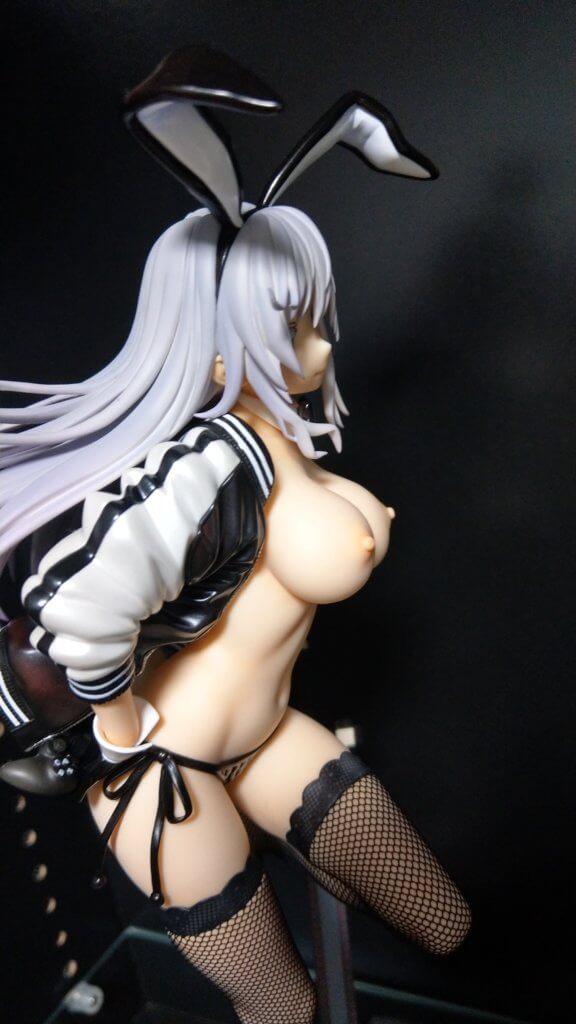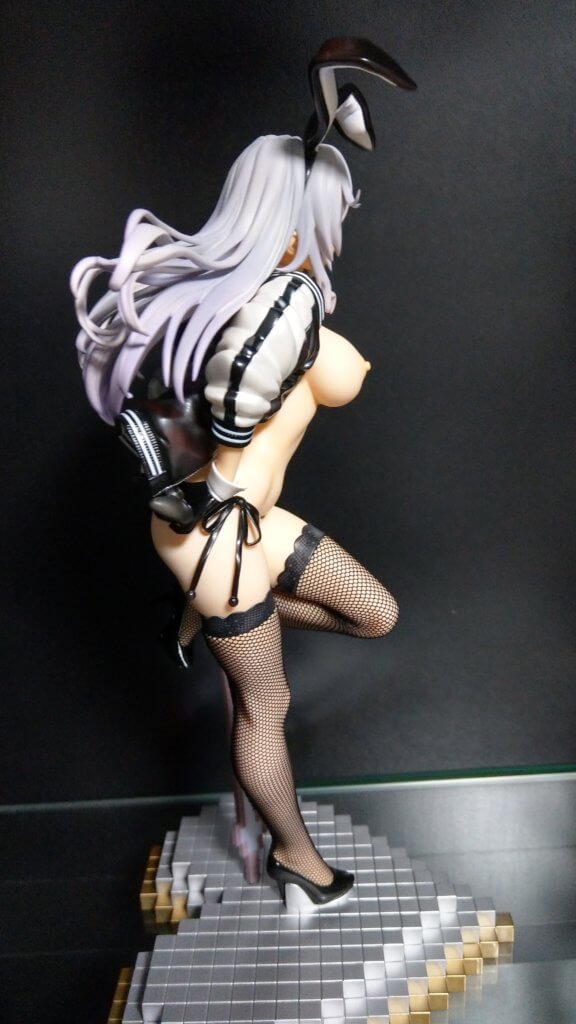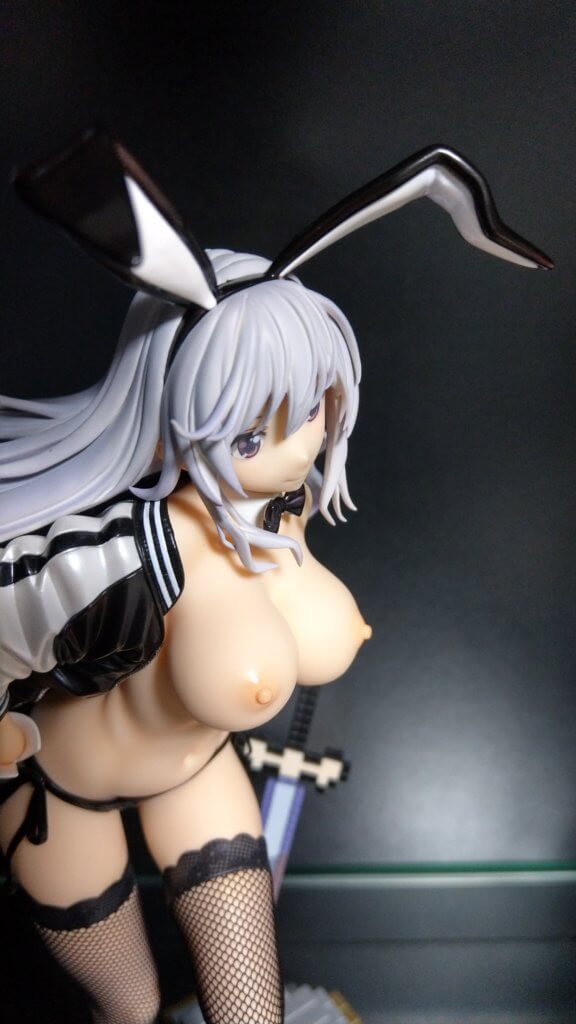 Just look at her imposing breasts!!!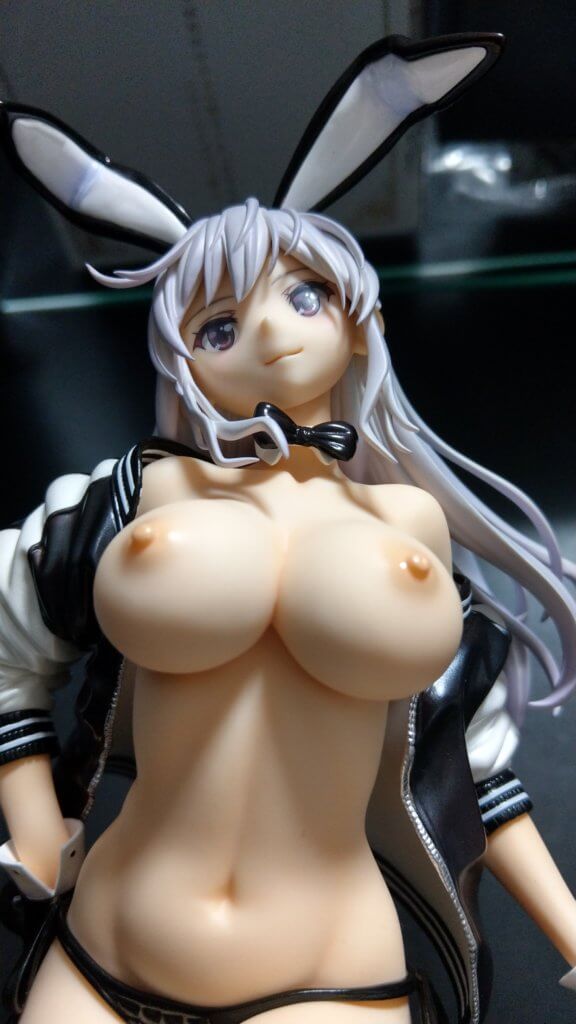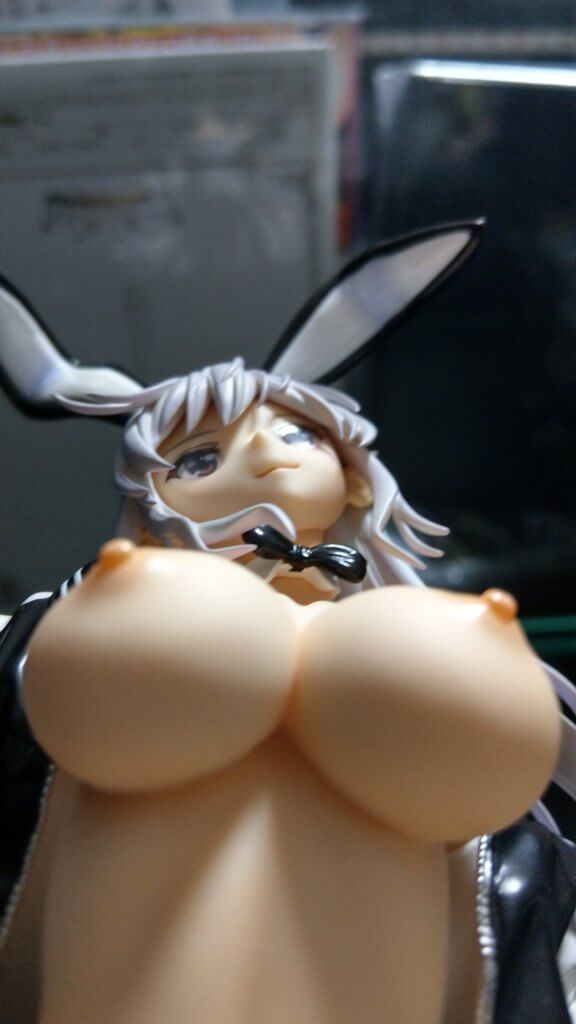 How amazing it is to see jiggly boobs!? It's beyond description.
Her chests may not be as large as Sakura Harumoto (also by saitom and SKYTUBE), but as for shape, I prefer this one.
*Let me say in her defense, Sakura is not half bad either!
Jacket
Taking off her coat will give you a good view of the cute design, which is though hard to see when she's dressed.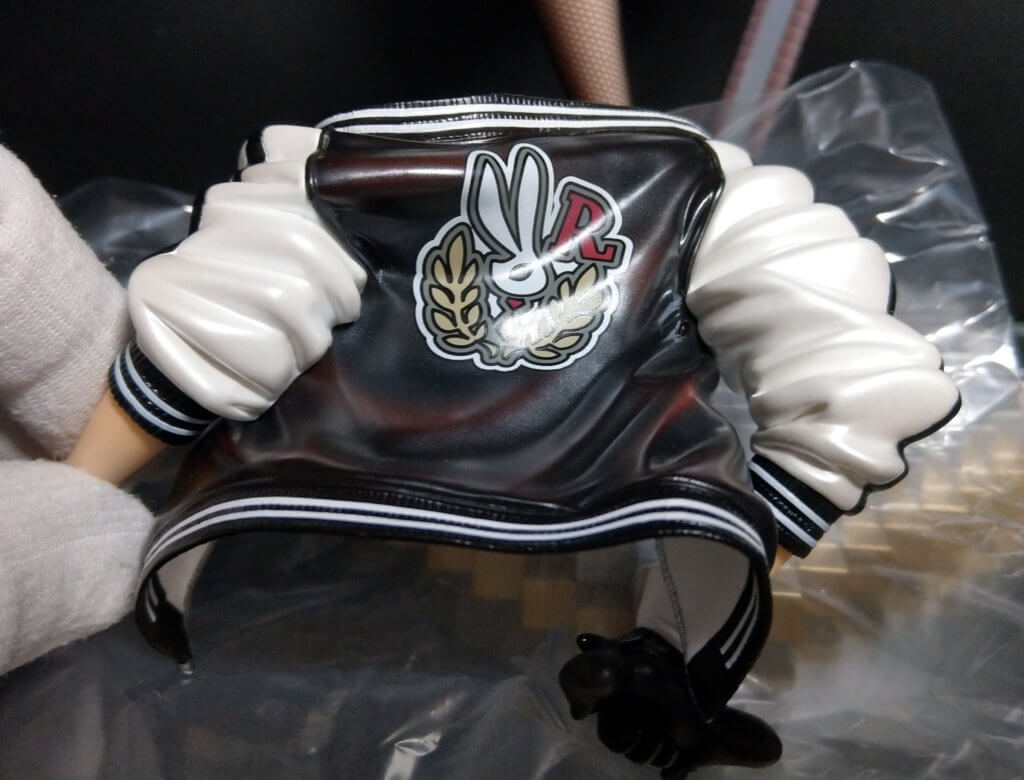 The lower half of her body
The most crucial part for some, well, most of us.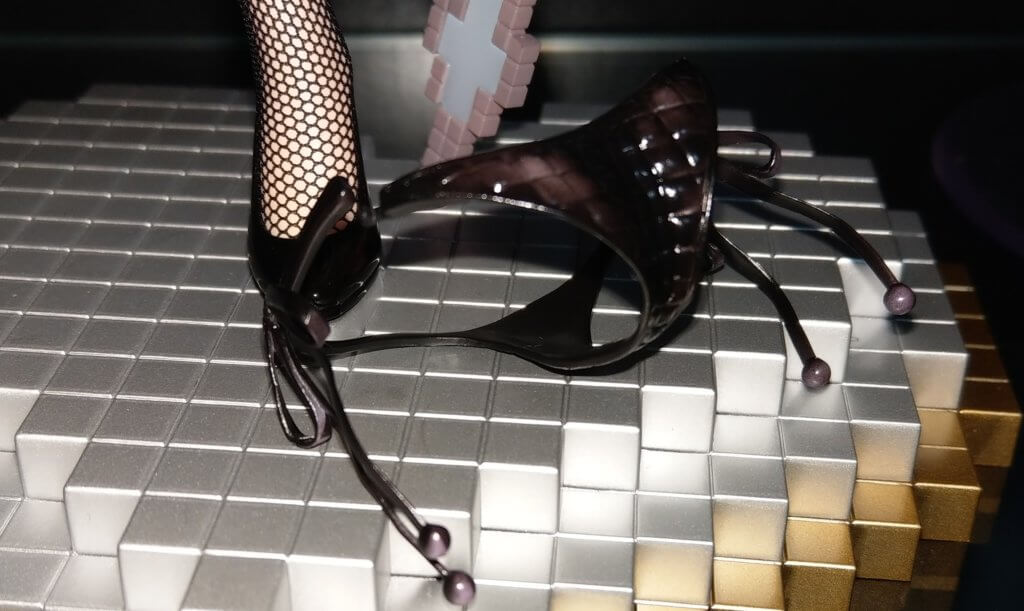 Got inspired by Natsumi, I chose to take the moment of her getting undressed so that she would look lewder.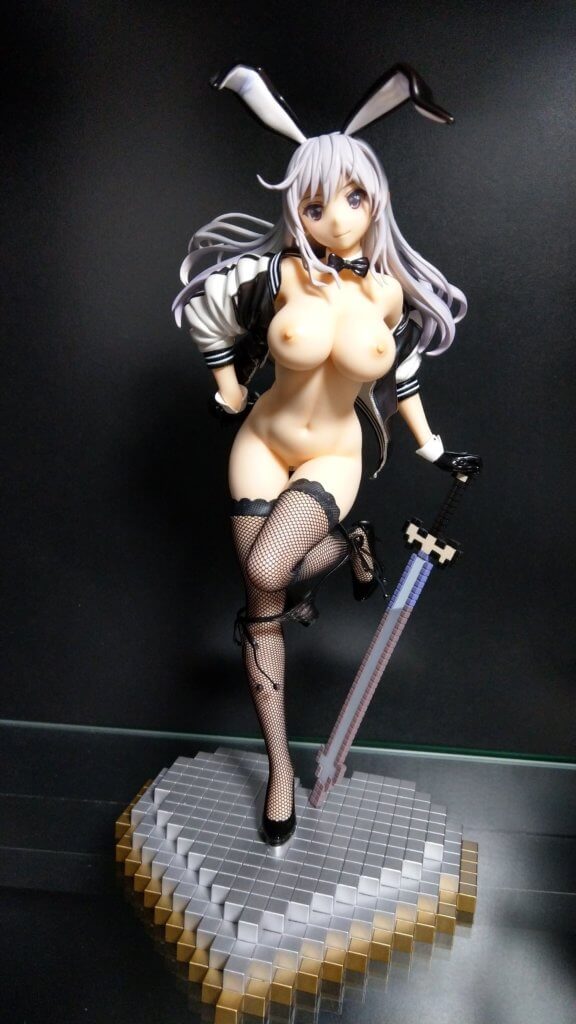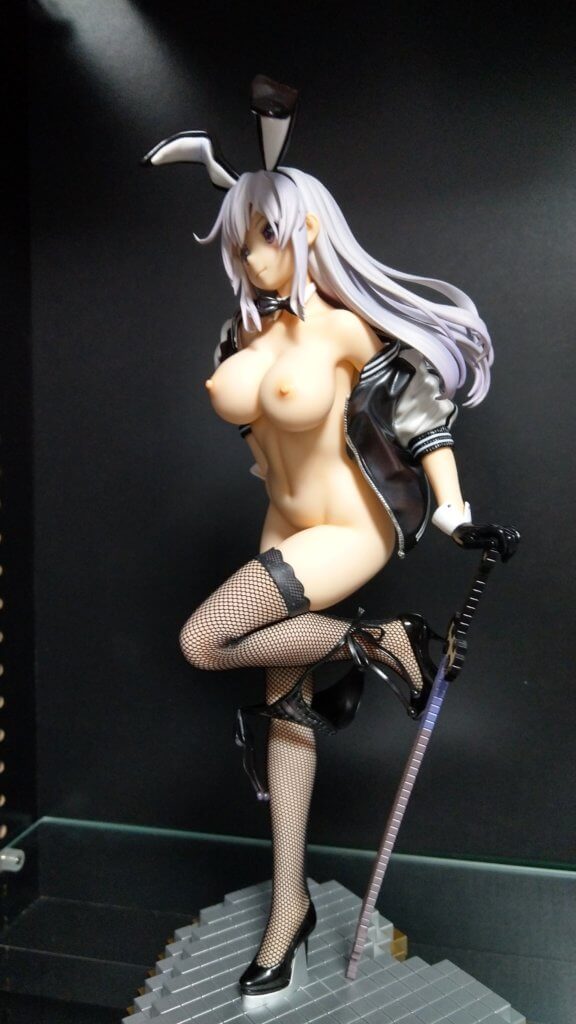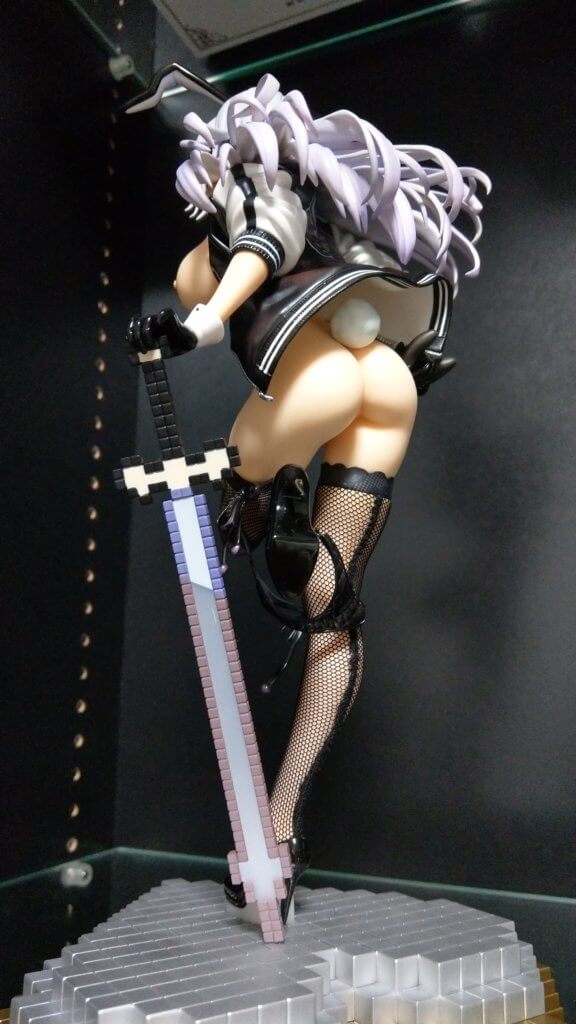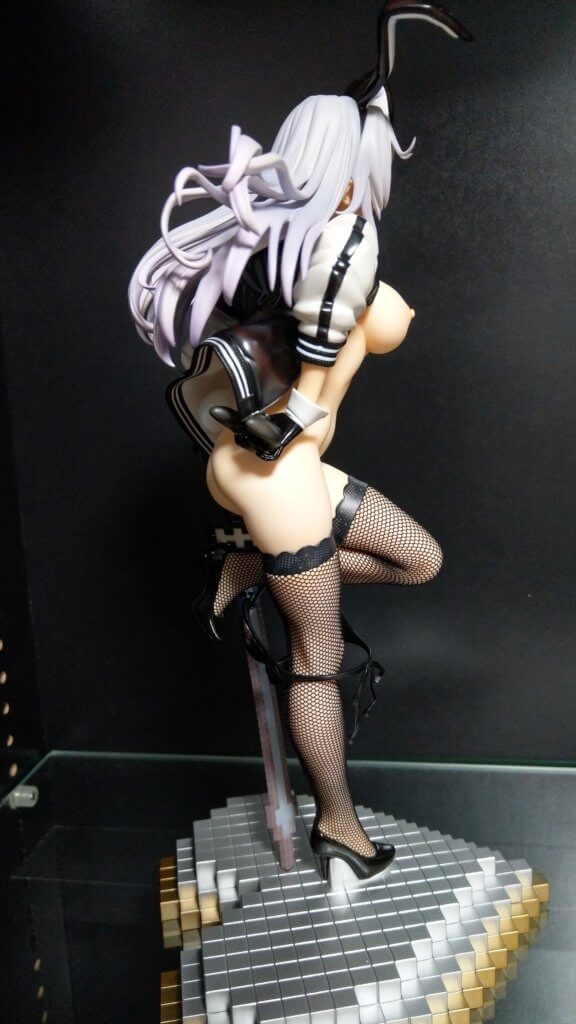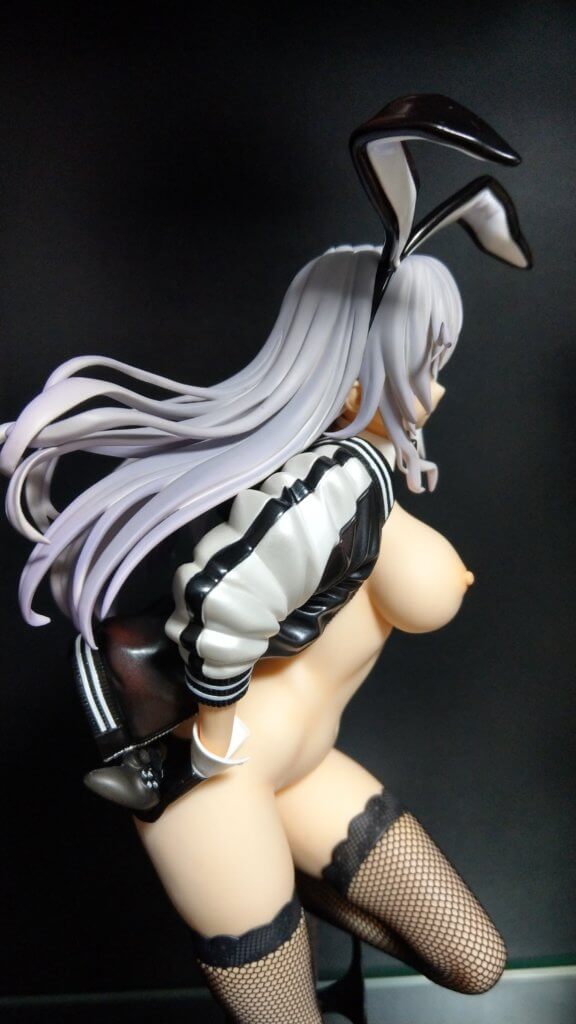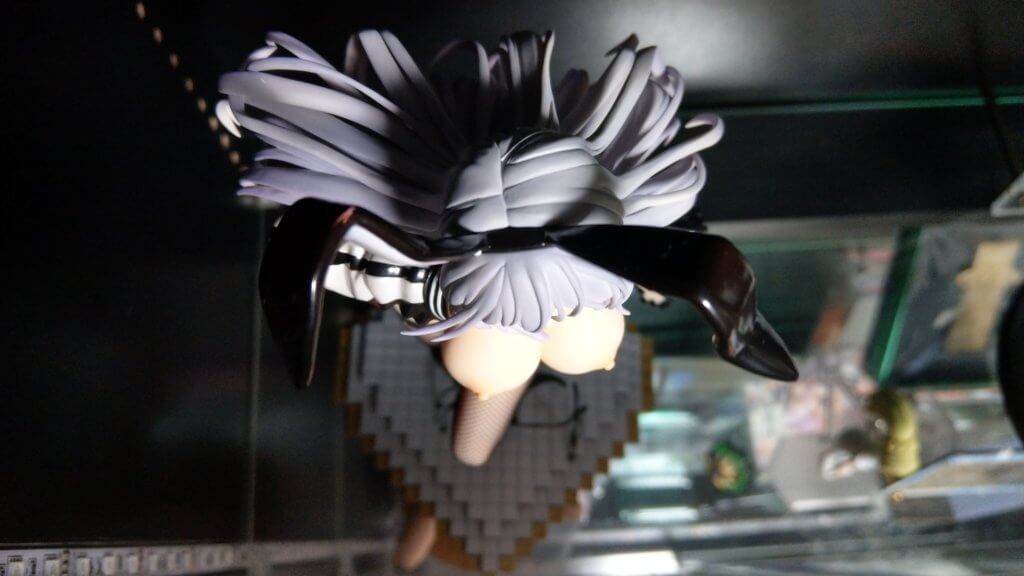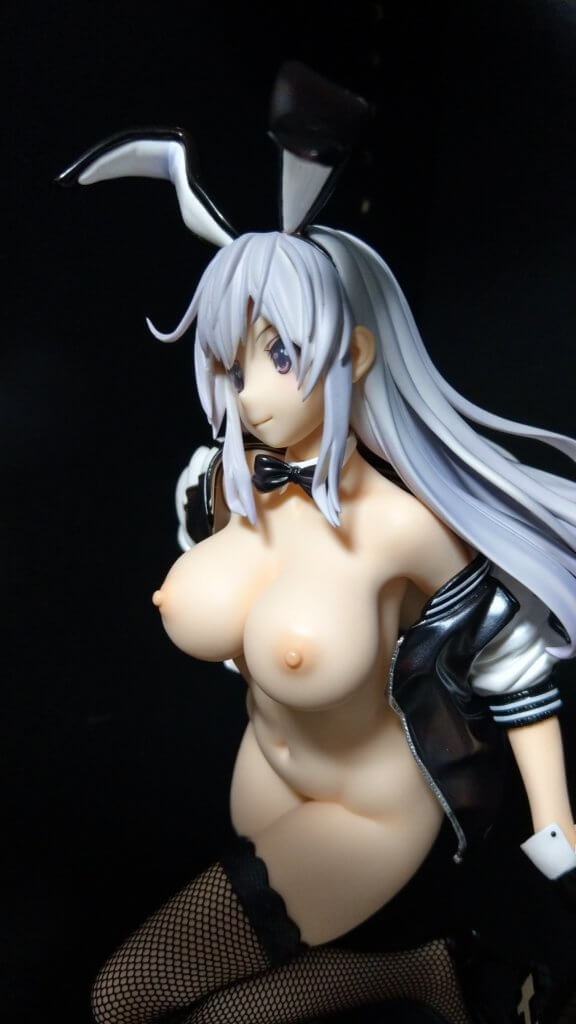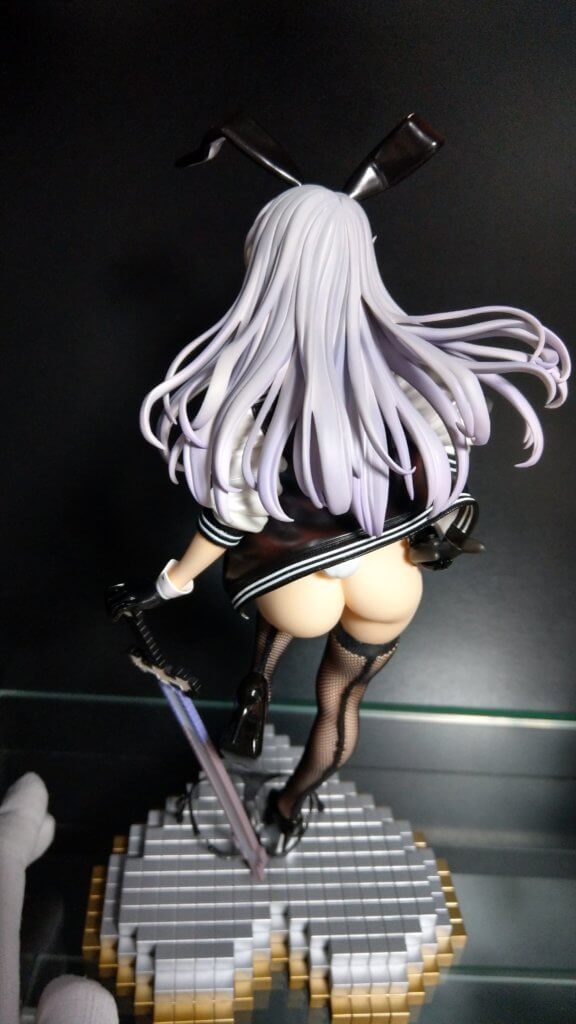 Lower back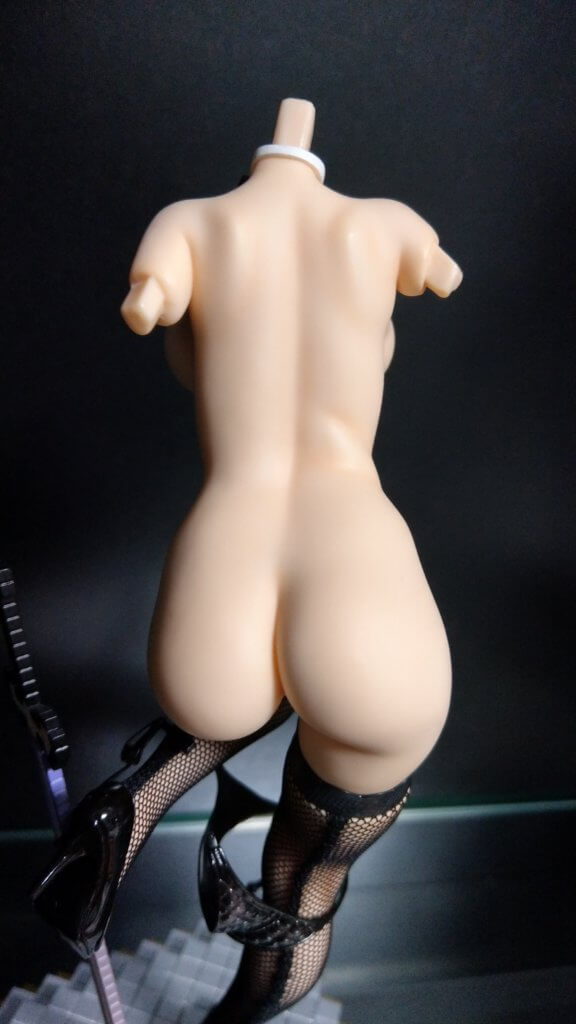 The curvy waist is laying stress on her rounded hips.
Pussy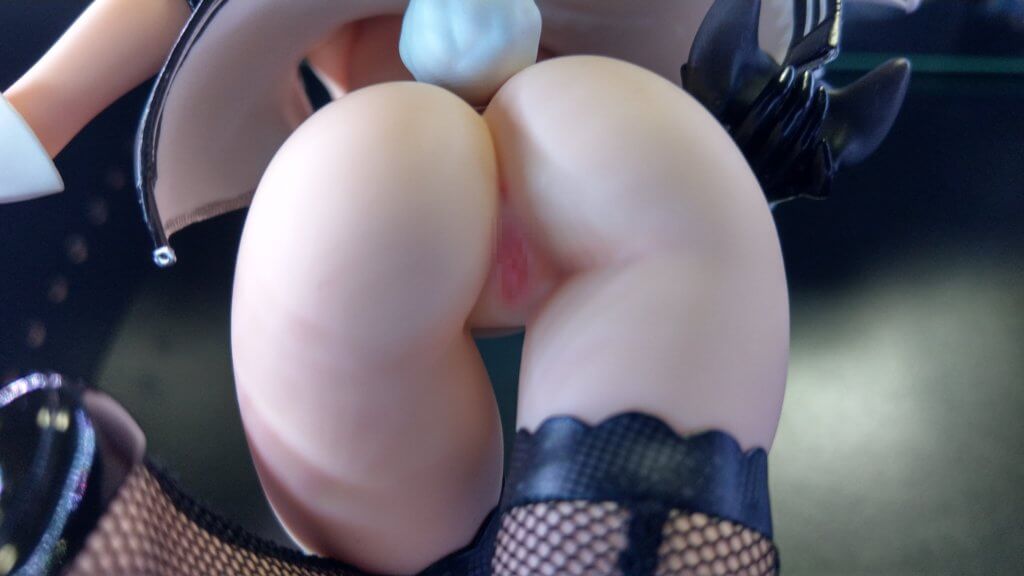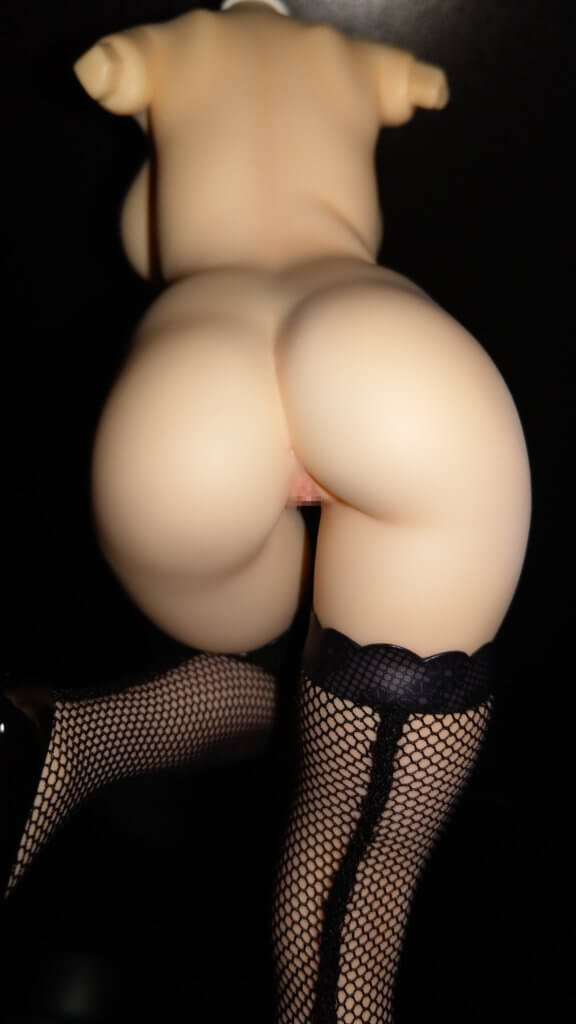 Having a pubis is ok, but pubic hair is not.
I have no idea what Japanese laws aim for. Japan has a ton of porn contents, and yet there are many restrictions when it comes to sexual depiction.
A bit small in size?
Although 1/6 scale, it's 28 cm tall. The dimension is relatively short considering equivalent figurines in circulation.
Here's the comparison with Maya Suma, another saitom character statue published by DragonToy.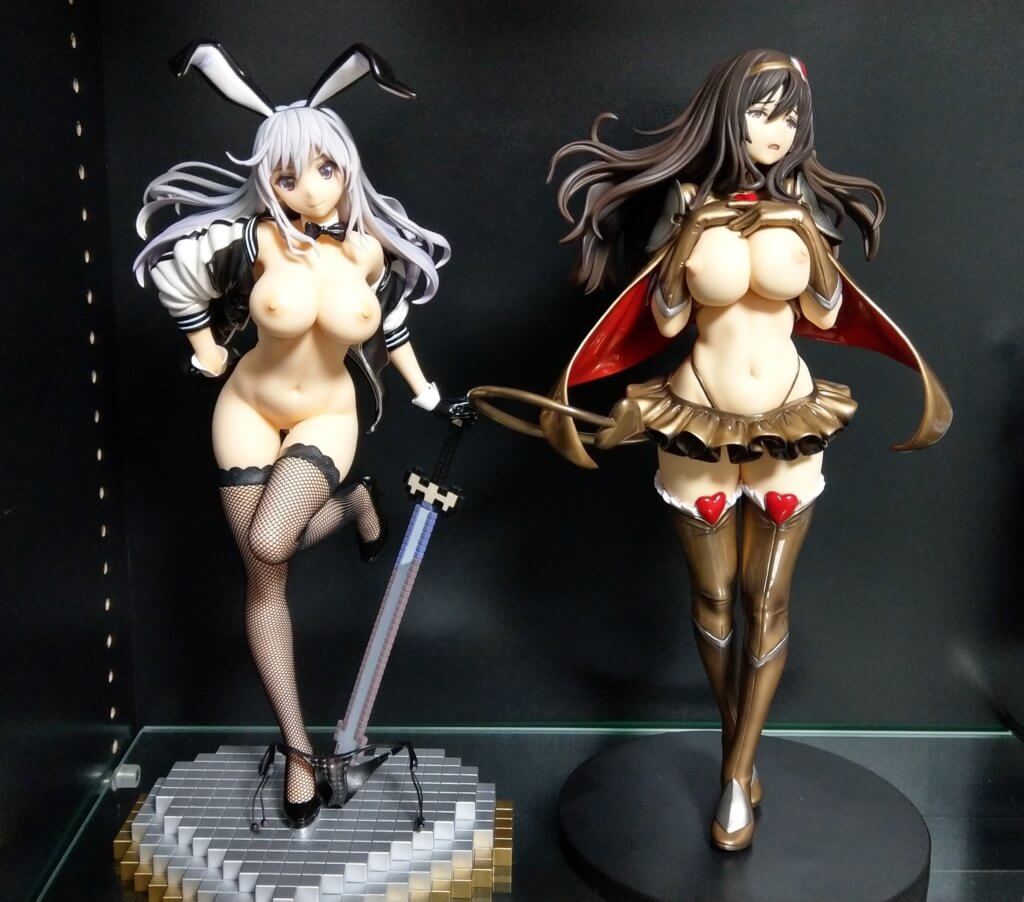 Yuu and Natsumi (1/7scale) standing side by side.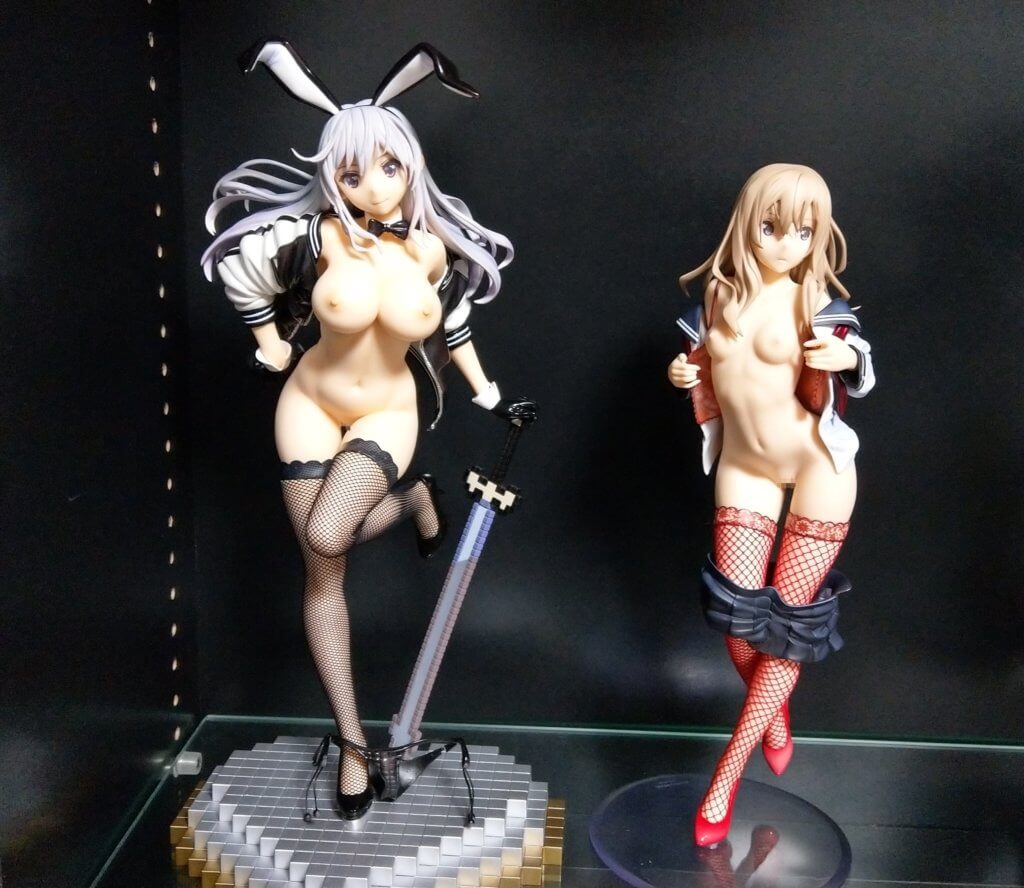 Bonus
AmiAmi exclusive Acrylic stand
This is an acrylic stand available to those who bought on amiami. A5-sized and larger than the postcard attached.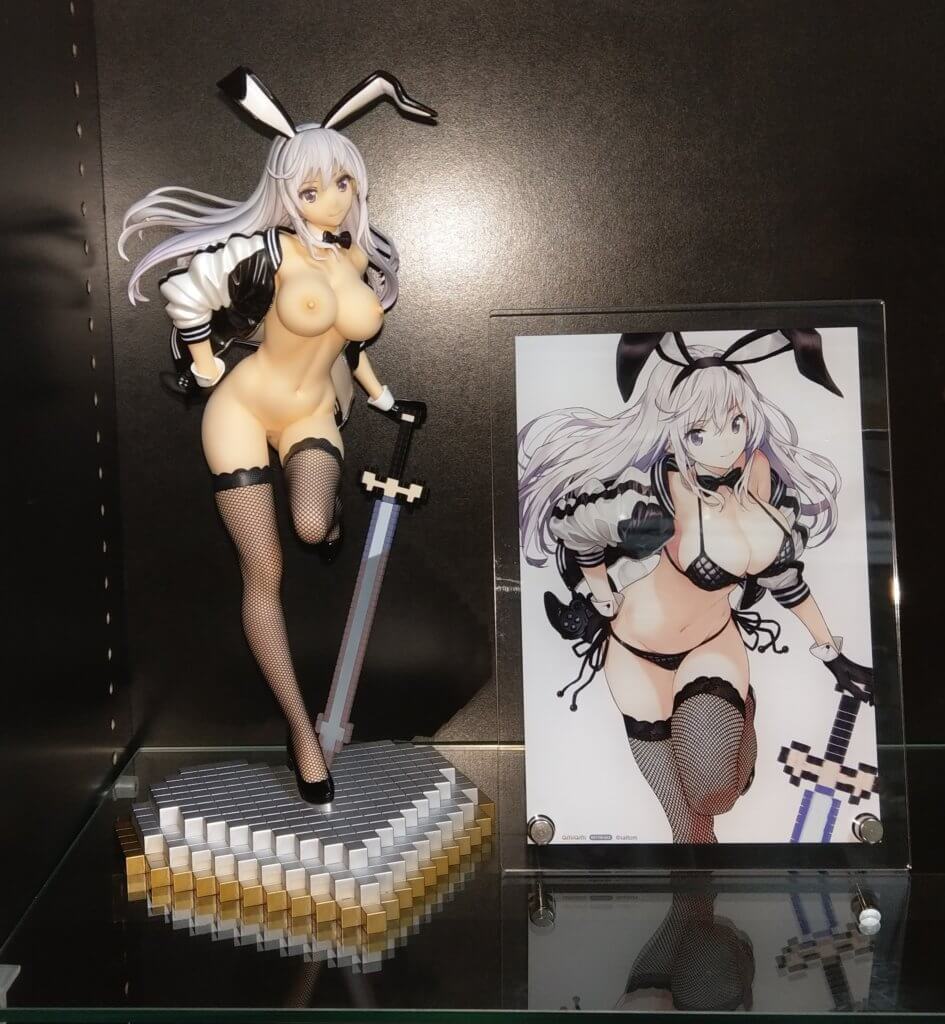 Postcard
The following photo is a postcard bundled with the figure.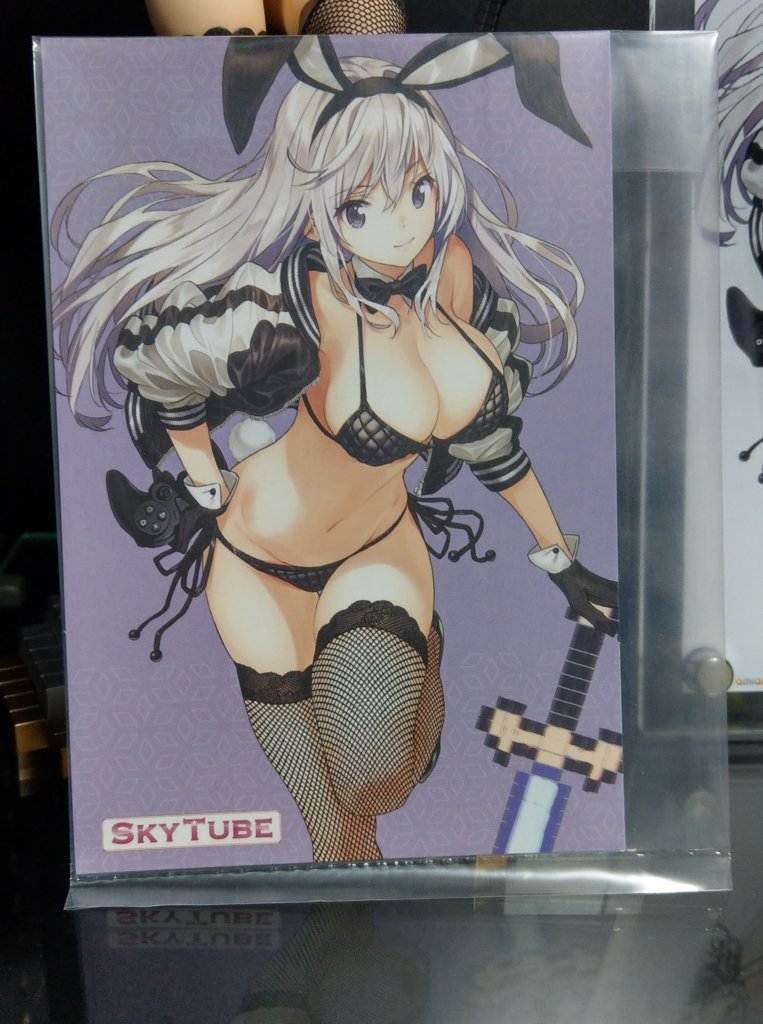 In conclusion
Nicely sculptured and painted except for her face.
From what I've seen so far, SKYTUBE puts primary emphasis on being seductive and Native on beauty.
I haven't been collecting those kinds of figures for so long, so correct me if I'm wrong.
Next up is Miyu from WRAPPING2, I guess. When is it out? Who knows?
Every character like Miyu tells me that saitom is such a fan of twin-tailed girls.
Yuu has a sister!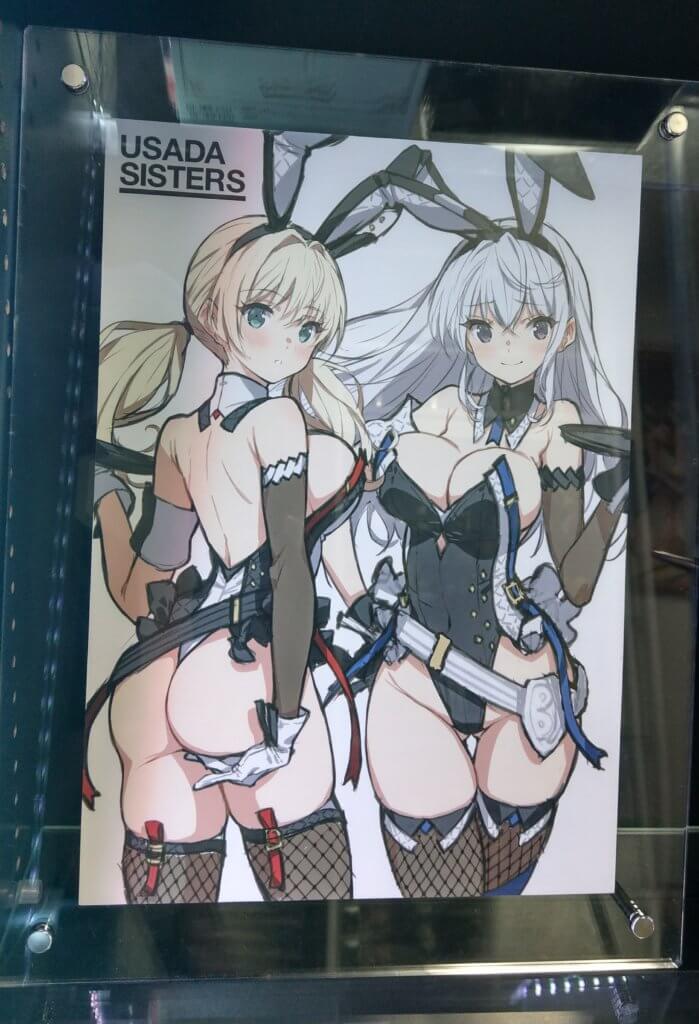 It tuned out that she had a sister named "Mimi." Another twin-tailed chick by saitom!! They're so adorable and have lewd bodies…!
I'd like to see the figure of her younger sister in a bunny-girl outfit if possible.
We have saitom's comment on the other side.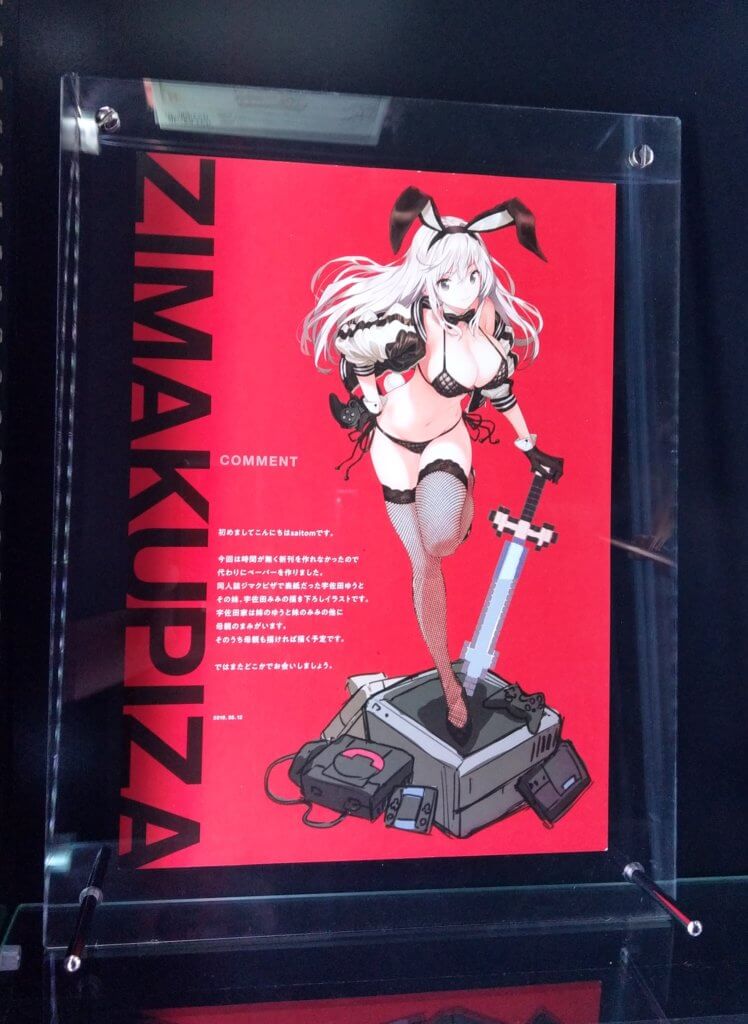 It says: The Usada family has not only the two sisters, Yuu and Mimi but also a mother named "Mami." If I can, I'd like to draw her one of these days (This is an excerpt of the important part).
Their mother!? Woo-hoo! I can't wait! I'm wondering what she's like? guess she must be as hot as Usada sisters.
…Hey, wait a second. How about their father?
Update
久しぶりに落書きしました。 pic.twitter.com/lCpMBzFbSm

— saitom (@_saitom_) 2019年5月27日
Another image for Mimi.
So cute!
Mimi's tapestry available for preorder now!
Click here to see more.
Side Note
The price is going up from the original 15,800 to nearly 20,000. Don't let yourself be lured or fooled by any bootlegs!