Comic Market 96 has come to a good end. Many different incidents have occurred since we commemorated the new era, Reiwa, so good thing participants got things done safely.
Now, when you feel down in the dumps, you know it is your favorite artist and merchandise that dispels the negative emotion. So what I'm going to show you from here is "Mimi Usada B3-sized tapestry," about which I posted an article the other day. She has a babyface but a glamorous body that could seduce us without realizing it…!
About this item
Title:Mimi Usada B3-sized tapestry(宇佐田みみ B3サイズタペストリー)
---
Doujin Circle:Nekomarushōten(猫マル商店)
Illustrated by:saitom
---
Price:2,592 JPY (about 24 bucks)
Date of issue:08/11/2019
The first appearance:Comic Market 961)For the original art, saitom tweeted it on May 27, 2019.
---
Dimension:B3(500mmx370mm)
Material:Double suede
Unboxing!
Click here to see the actual photos first!
This slideshow requires JavaScript.
Toranoana will pack books and tapestries separately as they did when I ordered the saitom illustration Works tapestry. I prefer it to MelonBooks though it's a little massive.
Another box has Zimakupiza F2, newly issued for C96, and RAITA's FGO book given to my friend for his birthday.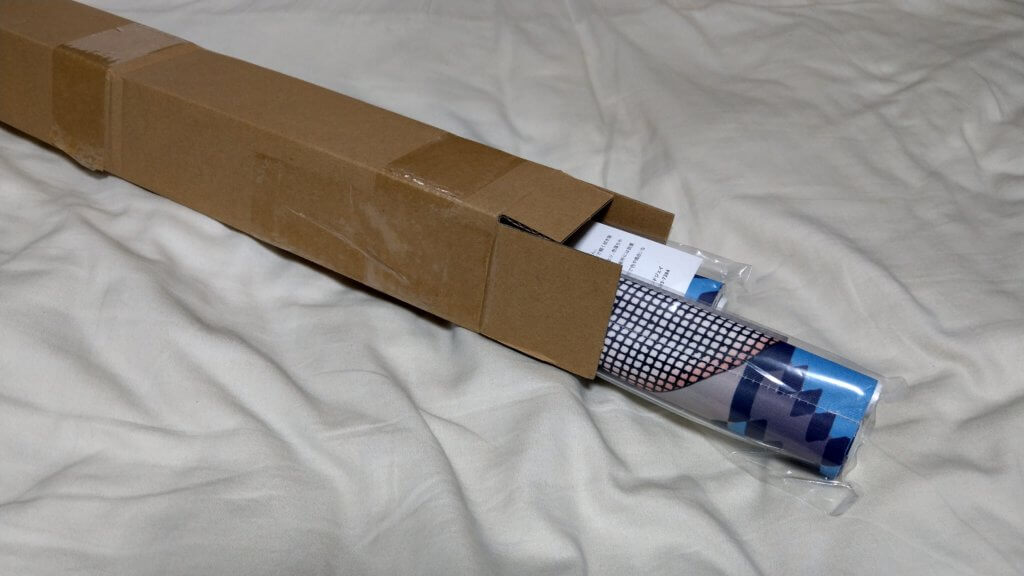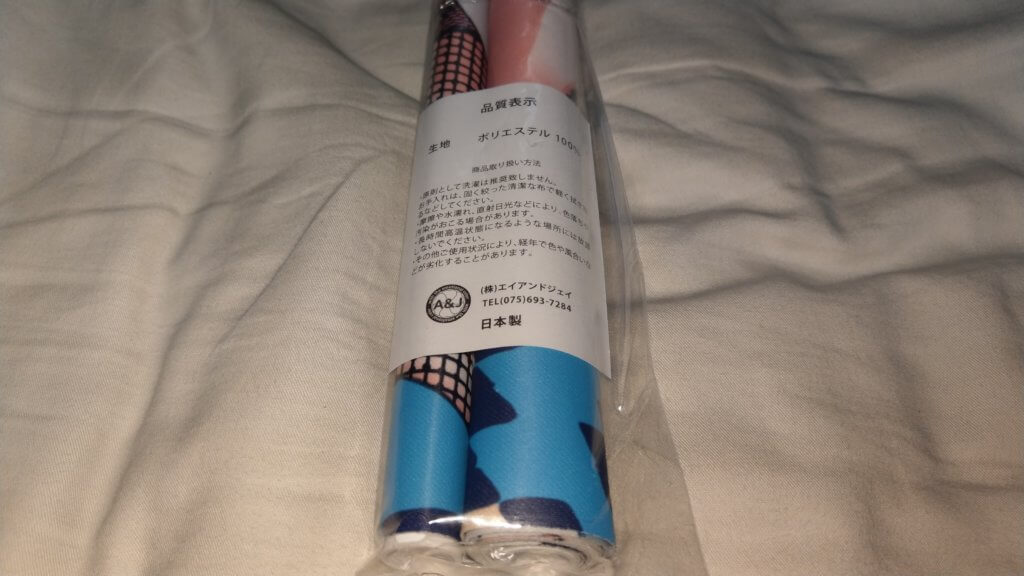 The paper is displaying what composes this tapestry. A&J company produces this item. While I was flicking through the caution, the thing that caught my eyes was: "not recommended for washing." One of my tapestries, for example, "Mage," says it's ok to wash by hand. Is it possible that this one has one way of treating it, but that one has another when they share the material?
IMO, they might have altered the text so that no one will make irrational complaints that are not their faults. This is only a speculation, tho.
Since I wanted to secure a spare, I ordered two pieces.
Now, let's take a look at this!
【FRONT】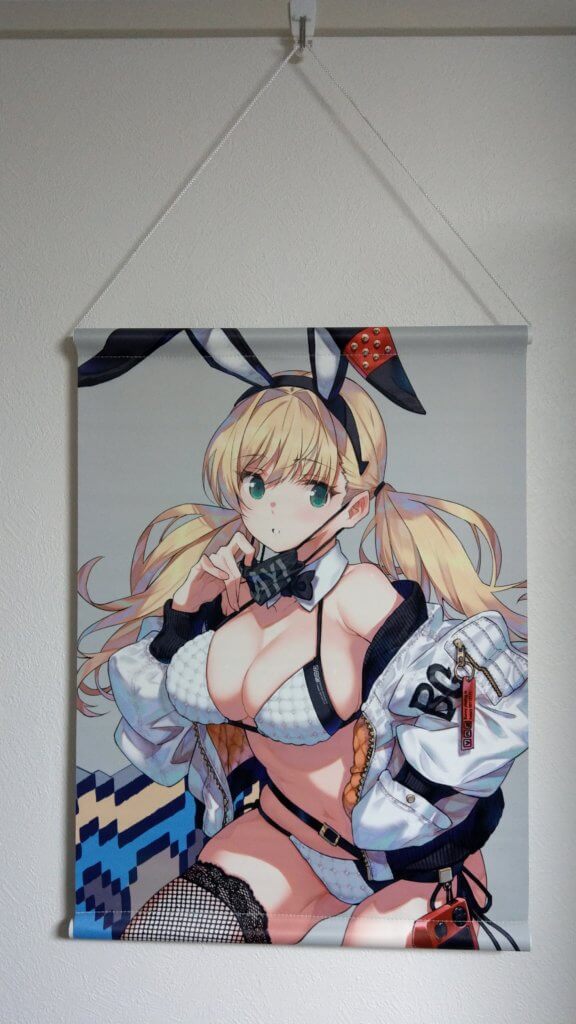 【BACK】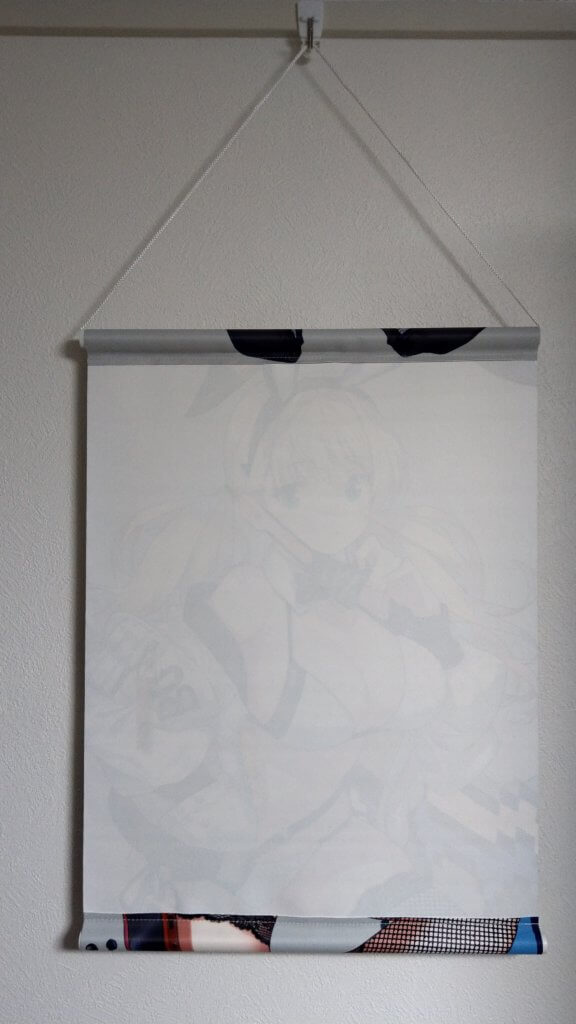 So cute, isn't she? What's great about this tapestry is that it is compact B3 size, but on the other hand, its tiny shape is also the downside. The actual dimension is pretty small, measuring 500mm by 370mm, which would go well together in many different environments. It doesn't matter what room or furniture you have. It's cool as hell.
Despite that, B3 is not large enough to do her justice. If it were B2, it would show the entire image, so that's quite a shame. The sample picture is showing her from top to bottom, and only if the actual tapestry were likewise! The artwork is superb so let's forget it.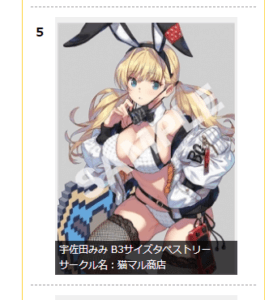 ---
UPDATE(08/22/2019)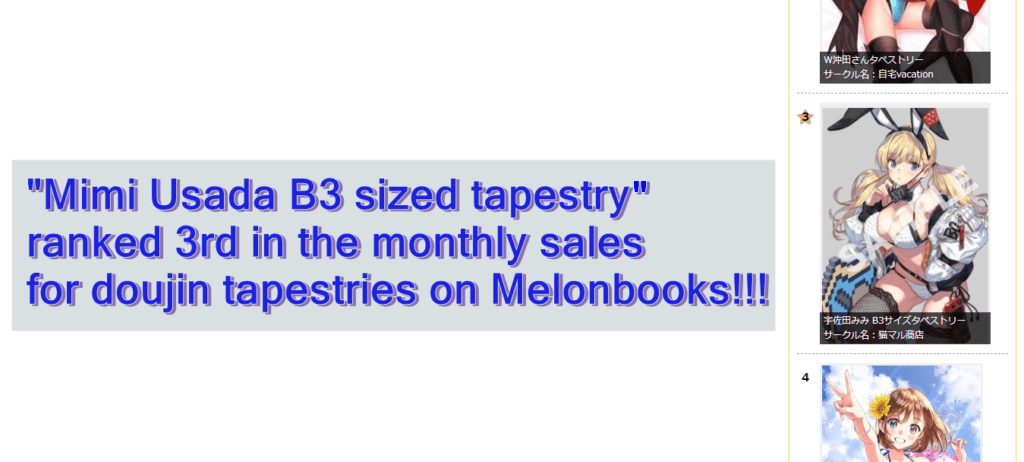 Mimi Usada has successfully secured the third place in the monthly ranking of doujin tapestries! So you're now on the podium! Well done, Mimi-chan!!

Side note
As of August 22, 2019, she is only surpassed by the two tapestries, both of which are from Fate Grand Order. Those sales underline not merely its sustainable popularity since its release, but also the fact that she is the most popular in the original character genre.
---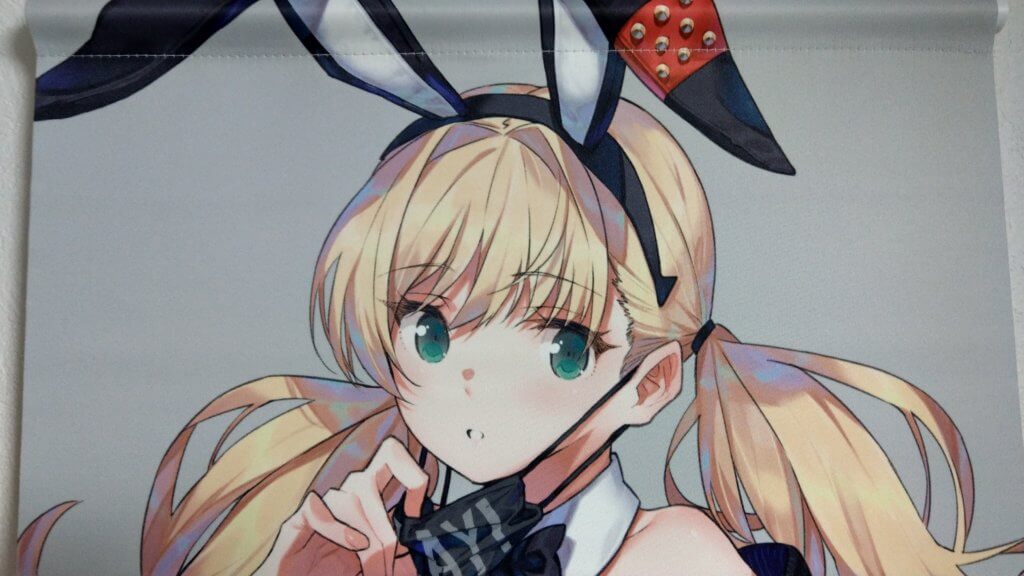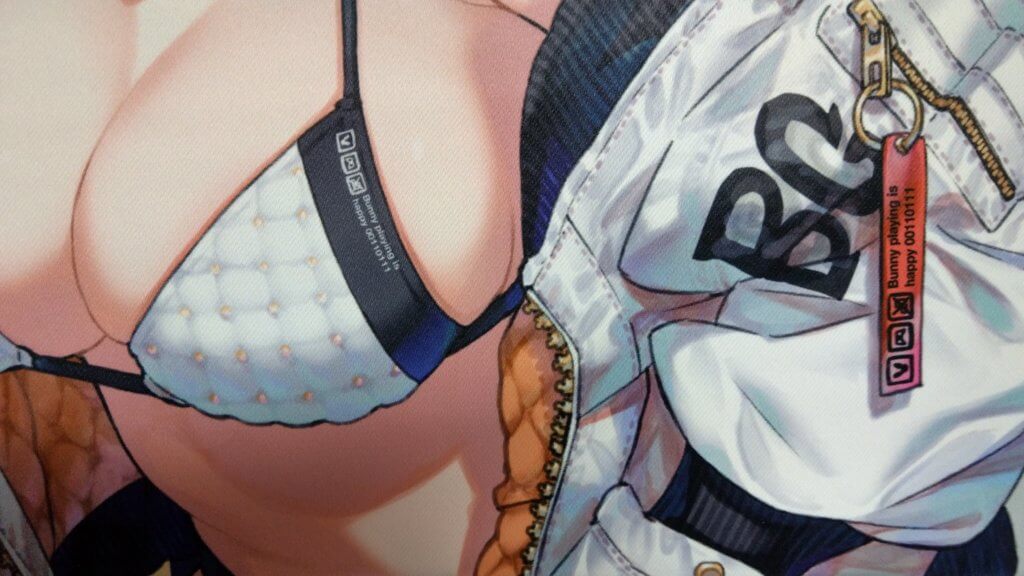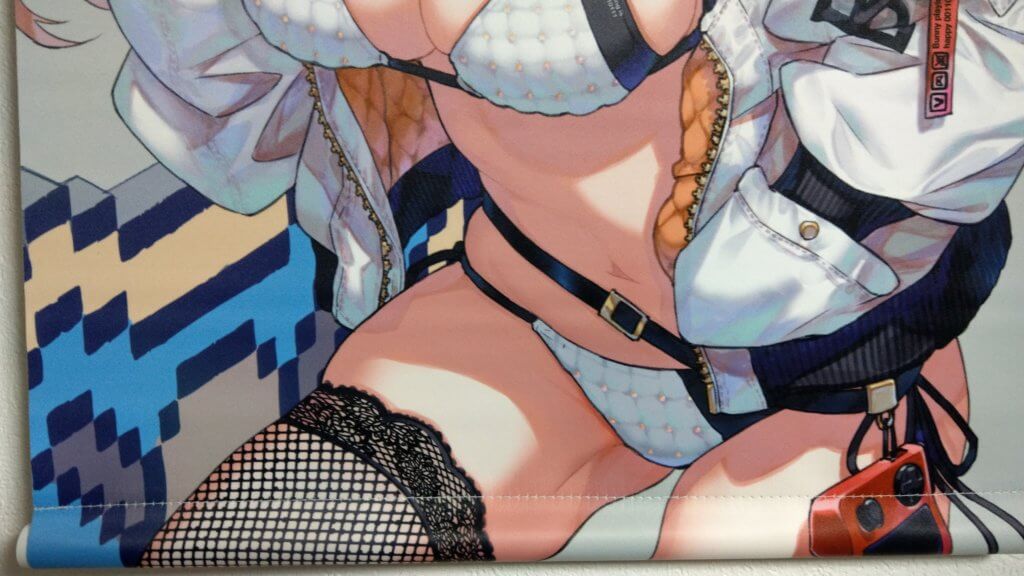 The twitter pic is a little bit grainy and difficult to discern what characters it says while the tapestry with higher res is not. And as you can see, the tag and bikini say, "Bunny playing is happy." I bet it would be fun to play with an adorable girl like her!
Touch it!
So, I stroked the surface to see how it feels. It's not as smooth as I expected. There are quite a few tapestries out there today, so it's too early to think anything is the same.
Comparison
Compared with"BIKINI WARRIORS Mage B2 tapestry(B2/730mmx520mm)."
The Mage one is smaller in size than a standard B2, which is nevertheless making the B3 look even smaller.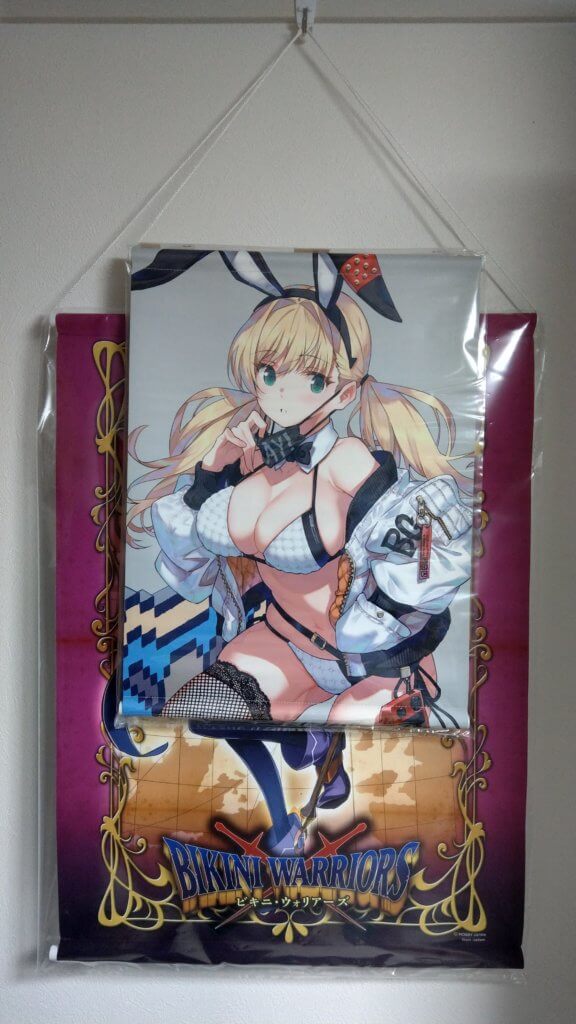 How to purchase
Here are the links for the item page.
Toranoana:https://ec.toranoana.jp/tora_r/ec/item/040030758127/
Melonbooks:https://www.melonbooks.co.jp/detail/detail.php?product_id=528250
Anyway, this tapestry is…?
For better or worse, it's such a compact item that is an unusual scale. It's up to you whether it's emphasizing her small build or making her less imposing. I'm not sure she is shorter than her sister Yuu.
If you're a fan of her, then buy it! Skytube releases Mimi's figure in the coming year, so check it out if interested!
Come to think of it, Yuu has a silver (or grey?) hair, Mimi has a blonde one, so then the mother Mami can be brown (bronze) haired?
Considering her daughters serve as an attacker and a shielder respectively, I guess her equipment will be a healing wand.
The gaming system is going to be SEGA, which is highly likely to come next to SONY and Nintendo because saitom used to be, well, if you know what I mean.
Anyway, I'm looking forward to seeing Mami's first appearance, and the father of the Usadas whom saitom has not mentioned yet.
Title: My story with Mimi Usada
---
I do love Mimi Usada for a particular reason. Guess what? It was May 27 when saitom unveiled the original illustration used for this tapestry, which was also my birthday.
I'm just another fan of him and I do know it's only a coincidence but still felt as if it were a birthday present, literally making my day.
久しぶりに落書きしました。 pic.twitter.com/lCpMBzFbSm

— saitom (@_saitom_) May 27, 2019